10 Day Custom Private Journey
Available from April through October
Visiting: SPLIT – TROGIR – ŠIBENIK – HVAR – KORČULA – DUBROVNIK
Signature Tour – Split to Dubrovnik – 10 Days
This package eliminates drive time and long distances making it perfect for the selective guest. With expert guides and private chauffeurs at your service, the journey from Split to Dubrovnik will be magical. Relax and gaze at the serene water on the short ferry rides from port to port. Walk through the fascinating streets of Split and its incredible seaport, take a tour of historical Salona and its ancient ruins, indulge in a wine tour and private dinner on Hvar and look out over the stunning views of the Dalmatian islands in Korčula. End your journey in gorgeous Dubrovnik, a UNESCO World Heritage Site and called "the pearl of the Adriatic" by George Bernard Shaw. Dubrovnik's Old Town is surrounded by primeval walls encasing marble streets and masterful Baroque architecture that glow in the setting sun. Savor authentic local cuisines and dream the night away in delightful hotels along the way. Adventures Croatia offers a perfectly encapsulated adventure into this fairy tale land.
Day 1
Arrival to Split
There's no doubt Diocletian's Palace is the top must-see attraction in Croatia's second-biggest city –Split. This UNESCO protected World Heritage Site is actually the heart of the whole city – almost two thousand years old, the enormous palace exists today as a "living monument" – meaning it's dotted with quaint shops, galleries, cafes, restaurants, and people actually live and work within its old walls. And that's what makes it really special – it's an ancient Roman palace absolutely integrated into the everyday life and doings of Split and its people.
The Riva, a marble-white and palm-lined connection of Split and the Adriatic is everyone's favorite spot for socializing, coffee-drinking or just idle sitting on one of the comfy benches which face the sea. Riva is full of life throughout the day, especially during the summer, and you'll always find people strolling along or sitting in one of the cafes. So, if you want to get a feeling of the local every day "buzz" be sure to grab your spot and you'll soon experience first hand how important and irresistible is the coffee culture in Croatia.
Private transfer to your hotel located in the heart of the city.
Meeting with your guide for an Exclusive Adventures Croatia private walking tour of Old Town Split. This tour will highlight the local customs and traditions related to food making. This tour Split will show you places of historical importance, take you to the places off the beaten path and give you the opportunity to taste local food.
Time at leisure to explore further on your own
Day 2
Trogir – Salona
Meet your guide in the morning for a walking tour of historic Trogir and Salona via private transfer. First, visit the city of Trogir, another UNESCO World Heritage Site, known as the "Jewel of the Adriatic." Stroll through town and visit the gloriously decorated 13th-century cathedral, the town loggia, and the duke's palace. Next, visit the ruins of ancient Salona, once the capital of this region and the location of where the story of the area actually started, for a rare glance at a live archeological site. Afternoon at leisure.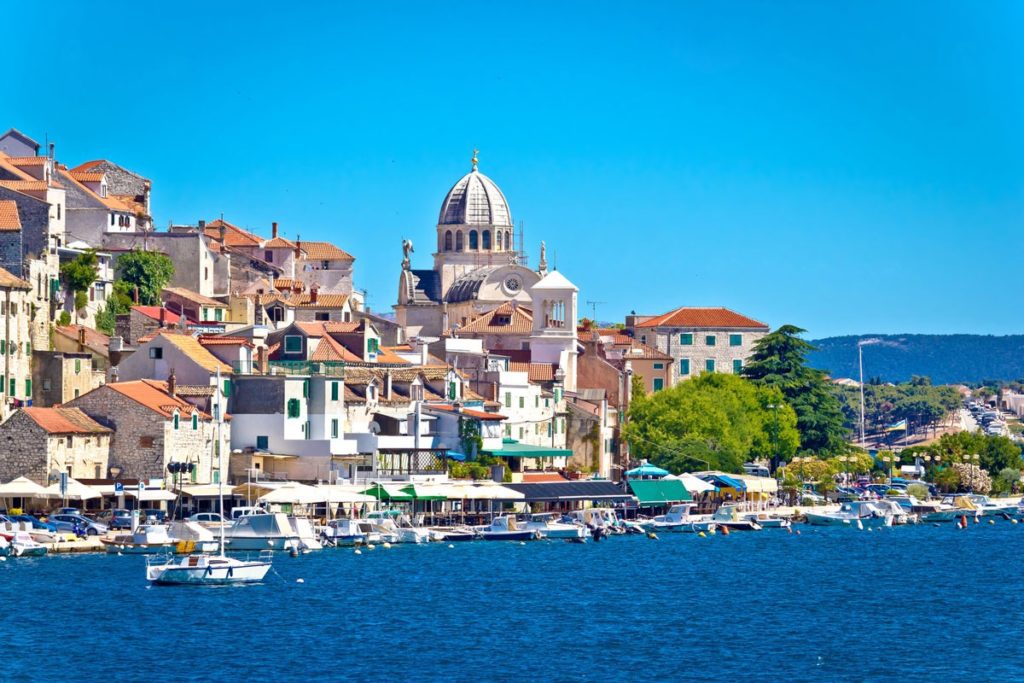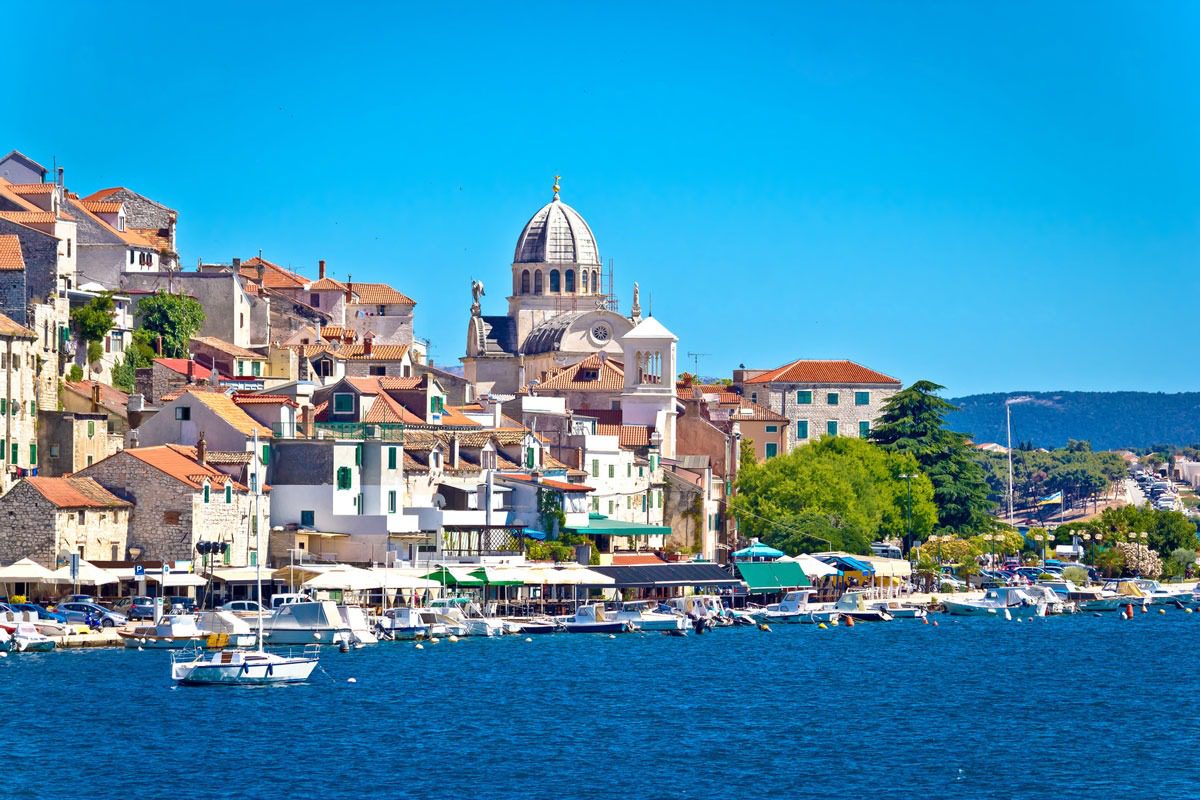 Day 3
Šibenik
After a morning of leisure, your guide will meet you at the hotel for a private transfer to Šibenik for a walking tour of this wonderful city. Situated in the deep natural bay, Šibenik is one of the most naturally protected harbors on the Adriatic coast. Little streets lead to attractive squares where modern shop windows mix nicely with the architecture of centuries gone by. The cathedral of Sveti Jakov, built in 1434, is an important architectural Renaissance building, listed as a Unesco World Heritage Site. A cathedral lies just underneath the fortress walls of the town in the old area of Šibenik. Enjoy dinner on the outdoor terrace of an exclusive local wine pairing restaurant. Return to Split for one last evening in your hotel.
Day 4
Hvar
Departure for Hvar town on island Hvar aboard an 11:30 catamaran and arriving at 12:30. Assistance with transfer and tickets. Take your time to get situated into the luxurious 4* Hotel. Called the 'Croatian Madeira', as it receives 2724 hours of sunshine each year, island Hvar is a unique experience. Between protective pine-covered slopes and the azure Adriatic, medieval Hvar town exudes more than a whiff of Venice. It was under Venetian rule that Hvar's citizens developed the fine stone-carving skills that resulted in a profusion of beautifully ornamented buildings. Private walking tour in the late afternoon.
Day 5
Hvar
Enjoy the morning in Hvar town watching the sights and sounds of this yachting paradise. Afternoon departure on a wonderful wine tour of Hvar ending with a private dinner in an olive grove. Return to Hvar.
Day 6
Hvar – Korčula
Morning in Hvar at leisure. Depart for Island Korčula in the afternoon. You will have assistance with transfer, ferry tickets included. The staff of the hotel will wait for you in the harbor. Check into this hotel located in the very center of the historic Korčula Old Town. This unique hotel occupies an 18th-century bishop's palace and five medieval cottages, offering luxurious accommodation in six residences, complete with five-star service, a spa and a restaurant overlooking the breathtaking Dalmatian archipelago. Korčula has a lot to offer its visitors. See and learn its art and history, its culture, traditional crafts, skills of stone masonry and shipbuilding, sword dances, music, writings, and its most famous inhabitant – Marco Polo. Dinner at the hotel restaurant.
Day 7
Korčula
Morning walking tour of historic Korčula! Afternoon at leisure. Enjoy your last night in Korčula on your own, or create your own adventure with the group.
Day 8
Korčula – Dubrovnik
Private transfer from Korčula to Dubrovnik via picturesque Pelješac Peninsula. Stop in historic Ston to tour the walls and ancient salt pans. Arrive in Dubrovnik in the afternoon. Check into your hotel and then enjoy this magnificent city.
George Bernard Shaw was enchanted by this beautiful city, about which he said "those who seek paradise on Earth should come to Dubrovnik and see Dubrovnik", as well as, famously, describing it as "the pearl of the Adriatic". Dubrovnik truly is a stunning city with its amazing Old Town, which became a UNESCO World Heritage Site in 1979. A magnificent curtain of walls surrounds marble streets and Baroque buildings that exude a pearly light in the Adriatic sun. The main pedestrian thoroughfare, Placa, is a mélange of cafés and shops with outstanding monuments at either end. Churches, monasteries, and museums ornamented with finely carved stone recall an eventful history and a vibrant artistic tradition. Beyond the city are a heavenly landscape of beaches, wooded peninsulas, and a sea strewn with lush islands.
Day 9
Dubrovnik
Explore Dubrovnik today! Your private guide will take you on a walking tour in the morning within the ancient walled city. Enjoy the walls, museums, and galleries. The rest of the day will be at your leisure, allowing time to browse, swim, explore, getting to know this magical city and all it has to offer. Late afternoon departure for traditional dinner served in the hillside.
Day 10
Dubrovnik – Departure day!
Private transfer from your hotel to the airport.
This package includes:
3 nights hotel 4* – Split
2 nights hotel 4* – Hvar
2 nights hotel 4* – Korčula
2 nights hotel 5* – Dubrovnik
Breakfasts daily, all taxes and VAT
Professional English speaking guides throughout
Private airport transfers
Private walking tour of Split
Private walking tour of Trogir and Salona
Walking tour of Šibenik and dinner at a local restaurant
Assistance with catamaran transfer to Hvar
Ferry to Hvar
Walking tour of Hvar
Wine tour of Hvar with dinner in an olive grove
Assistance with transfer to Korčula
Ferry to Korcula
Dinner at Korčula hotel upon arrival
Private walking tour of Korčula town
Private transfer from Korcula to Dubrovnik with a tour of Ston (walking the historic walls and salt pans)
Walking tour of Dubrovnik (2 museums, walls)
Traditional dinner served in the hillside
Additional suggestions:
Oyster Harvesting Experience, Ston: take a boat out to the Oyster farm and enjoy lunch and wine, and the freshest oysters you'll ever taste!
Sea Kayaking, Hvar
Sea Kayaking, Dubrovnik
The package does not include:
Meals and drinks not included in the cost
Airfare, Travel Insurance, Gratuities, Personal Expenses
Signature Tour – Split to Dubrovnik – 10 Days
Available from April through October
Private Journey for 2 – 8 Persons
Prices are based on the number of passengers traveling and dates of travel
Hotels are not guaranteed until confirmed