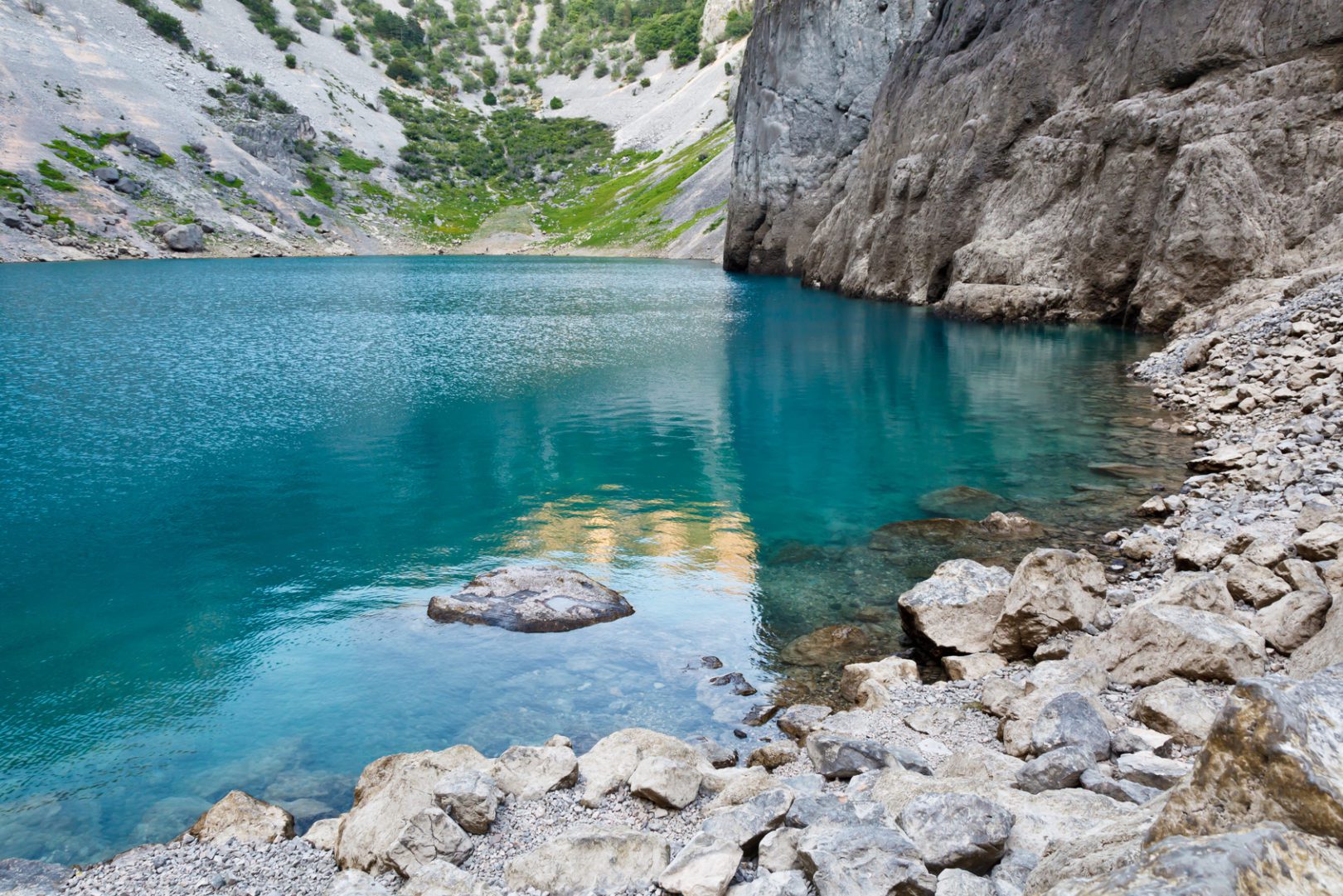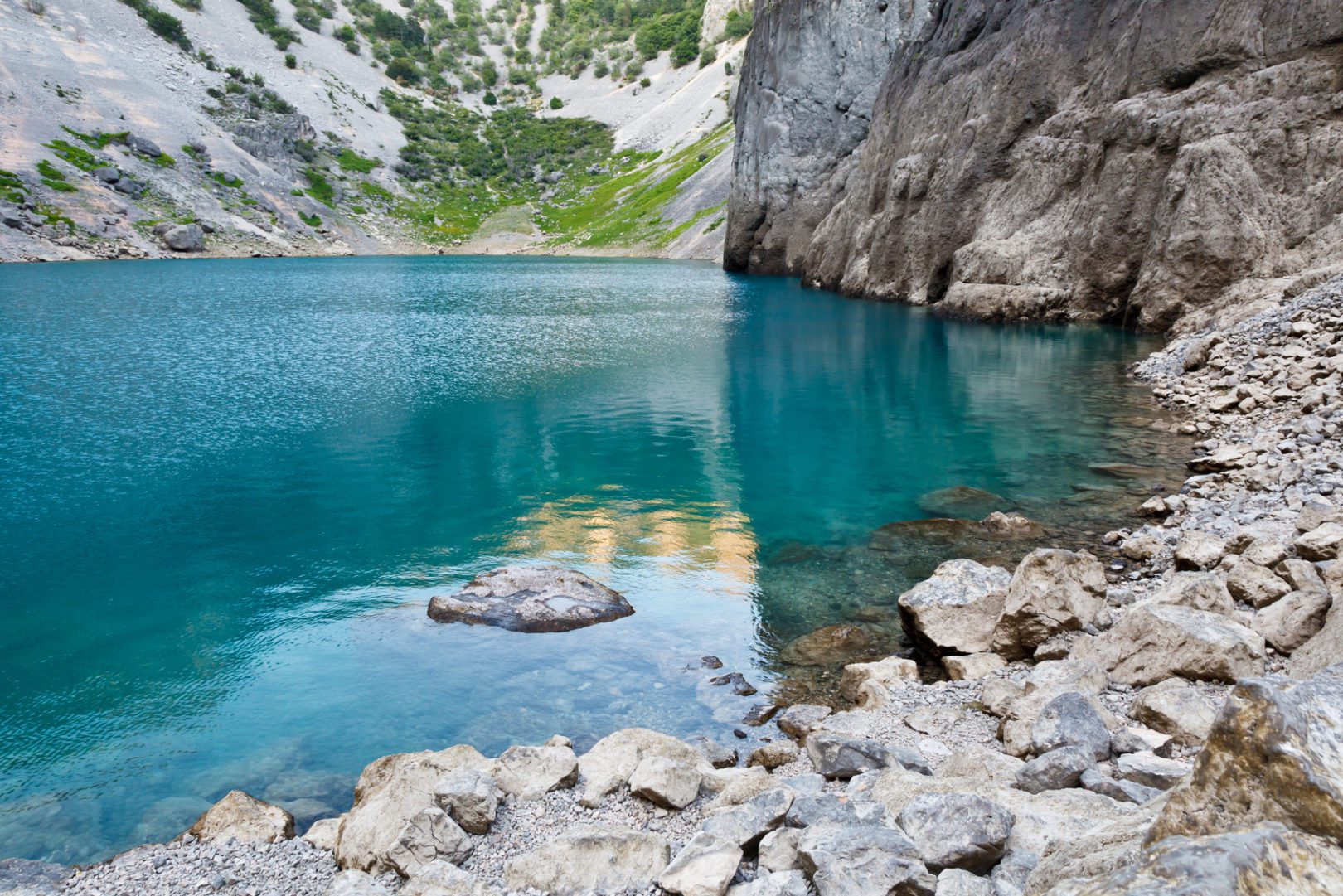 Discover Croatian Tuscany
If you love exploring destinations off the beaten path, you will find this spectacular location quite intriguing especially, when you find out it's called "Croatian Tuscany" by locals. This Croatian gem – the small but fascinating hilltop town of Imotski – 90 km from Split, near the Bosnian border, is truly blessed, just like its Italian counterpart region, with beautiful rolling hills, lush nature, warm climate and natural conditions that are perfect for growing grapes and wine-making.
Imotski is also known for its mystery lake! The Blue Lake (Modro Jezero), is very deep and completely disappears in the summer… leaving the bottom dry and flat enough to play soccer games on, exposes incredible canyon hiking trails and new views to explore. And then just like that – it starts to get filled up with water again rising to its full capacity in the spring. Of course there are fabled legends to explain everything.
For the longest time, Imotski was just a simple wine-making village mostly known only by locals. But this lovely enclave was destined to be discovered sooner or later and increased tourist activity has stimulated the growth and development of its winemaking industry. The region transformed and its wines have gained more recognition in the global wine making community.
Dalmatian wines are surely popular among various Croatian wines. Hot weather, sun and geographical conditions make this region well known for its strong red wines. Some  Dalmatian classics are Plavac Mali, Dingač, Crljenakkaštelanski (identical to Zinfandel) and Pošip. A Dalmatian white wine that should not be missed is Kujudžuša – white wine typical of the ForImotski region.
This variety is exclusively grown in Imotski and is a bit dry, low in alcohol and goes down very easily. Due to improved modern wine making methods, this wine went through some transformation and now its distinguished taste has earned deserved recognition to become a staple on hot summer days.
The name Kujundžuša comes from the local dialect word that originates from a Turkish word for goldsmiths and describes the golden color of the wine. Production is limited to local wineries in Imotski region, so plan a unique visit.
Some other wine varieties to try here are locally grown Chardonnay and two reds – Merlot and Vranac. There is hardly a tour of Imotski that does not include a winery visit to enjoy local food paired with local wines.
Cuisine of this region is influenced by Italian, French and Turkish cultures. Locals combined local "peasant" ingredients with recipes brought from neighboring countries. As some of the recipes are carefully kept in the families and are rarely given to the public, the food you can taste here is usually prepared only in this area, with some variations in other Dalmatian towns. Some examples of local food found are Dalmatian peka, Prosciutto and cow's cheese. There is also a dish called Kapurali – cabbage wraps filled with minced meat – different dish variations exist in Croatia. A really simple dish to make, and so very tasty, is uštipci – made from homemade dough filled with cheese or bacon.
Local traditional desserts deserve special mention. They range from sugar-covered almonds to Imotski rafioli and Imotski cake. All are almond and walnut based and take quite a long time to prepare, so if you want to taste them – they are usually pre-ordered from local bakeries.
We will share one local family Imotski Cake recipe that has been in the family for over a century.
Imotski cake
Filling:
250 g of peeled and minced almonds
250 g of granulated sugar
8 eggs
1 shot of rose brandy (rakija)
Lemon zest
Dough:
200 g flour
150 g butter, melted
60 g sugar
1 egg
Mix dough ingredients, prepare the dough and divide it in two parts for bottom and top layer. Beat the eggs and prepare the filling mixture and fill in the pie. Bake on 200 celsius for 45-50 min. Cool for 30 min and decorate with sugar powder.