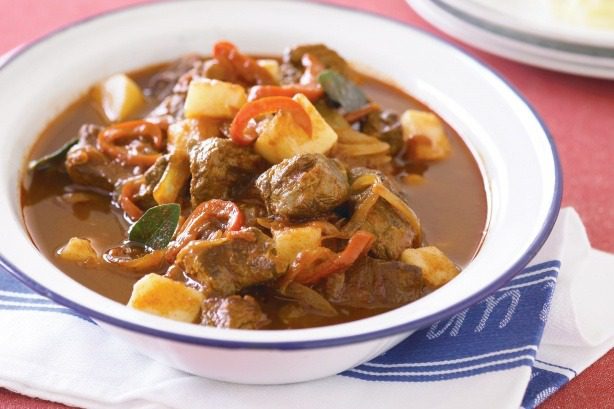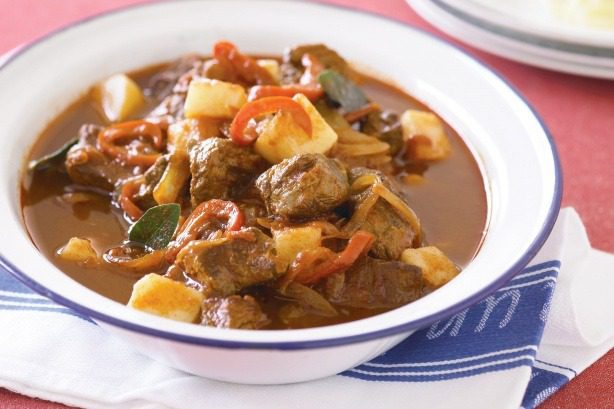 Traditional Croatian Goulash Recipe
Traditional Croatian Goulash
Ingredients:
2 tbsp. of olive oil (Croatian, of course!)
1 clove of garlic
1.5 lb. of stewing beef, cubed
1 can Tomato paste
Salt, pepper, to taste
1 teaspoon of ground red pepper (cayenne)
Bay leaf
12 small onions
6 medium-sized potatoes, cubed or chunked
1 cup of peas (fresh, frozen or canned, drained)
1 cup of grated carrots
2 tbsp. of flour
3 tbsp. of water
Instructions:
Heat the oil in a 5 or 7 Quart stockpot or Dutch oven, and add the finely chopped onions. After a few minutes, add garlic. Cut the beef into cubes (if the butcher didn't do it for you) and when the onions turn golden, add the meat to the pot. Brown the beef on all sides.
Add water to cover the meat. Add the can of tomato paste, salt, pepper, cayenne pepper and bay leaf. (if you don't like spicy food, use less of the cayenne, but we don't recommend taking it out completely.)
Reduce heat, cover the pot, and let it simmer, stirring occasionally. After about 50 minutes, the meat should be soft, add the potatoes and grated carrots. Return to a simmer, cover the pot.
Mix 2 tbsp. of flour with 3 tbsp. of water in a small mixing cup or bowl. When the potatoes are fork-soft but not quite done, remove the pot from the hot burner and stir the flour/water mix into the goulash. After stirring in the flour/water mix, add the peas and put it back on the stove at a low temperature, mix well, cover, and cook until the potatoes are soft and fully cooked to your liking. Remove from the heat and serve. Enjoy!