Best of the Dalmatian Coast – Croatia
This is truly one of the most beautiful and exciting tours offered by Adventures Croatia. With every turn your trip will be complemented by the utmost in detailed and personalized services and our knowledge of this stunning region and the authentic culture will ensure a unique journey.
Discover the Dalmatian Coast and the Mainland, too
Discover the best of both land and sea with this custom Croatia luxury private tour. Let our Croatia Travel Specialists take care of the details with the best Croatia travel plans and expert planning to help you plan your trip.
Overview:
Experience the old city of Zadar and its outstanding historical monuments. Soon you'll be exploring gorgeous Krka Waterfalls National Park where you can walk on winding wooded paths along the Krka river.
As well as visiting delightful Trogir, a UNESCO World Heritage Site, spend a day walking the ancient streets of Split.
Next, you'll visit Vis, famous for its charming coves. Enjoy a private boat transfer to Bisevo where you can explore the crystal clear Green and Blue Caves.
Furthermore, you'll arrive by boat to enchanting Hvar where you will embark on a special wine tasting tour with some of the best winemakers in Croatia. After all of this, end the day with a lovely sunset dinner in serene olive groves.
Continue on through Mali Ston where you can taste succulent oysters harvested straight from the sea and admire the lush interior landscape.
Moreover, once you're in exquisite Dubrovnik, marvel at one of the most beautiful cities in the world during a private walking tour through its magical streets.
Finish your journey with a day trip to Montenegro and charming Kotor with breathtaking views of Boka Bay as you wrap up this astonishing journey.
Live your dreams with Adventures Croatia!
Curious what our other clients have said about Adventures Croatia? Read some of their reviews.
---
Where Is the Dalmatian Coast, and Why Should You Go There?
The television show, Game of Thrones, has made everyone excited about getting off the beaten path. There are so many places to visit while you take your Dalmatian coast vacation, and we can help you set things up.
We realize that you may want to visit Croatia and have no idea what's out there. Do you want to use the ferry service to get around each town? Are you dying to visit Mljet Island for fresh fish and a panoramic view?
Croatia's Dalmatian Coast has fresh seafood, red-tiled roofs, and four historical regions to enjoy throughout the summer months. We want to help you plan your trip and set sail around the old-town streets. Whether you want to see Game of Thrones locations or the Lovrijenac Fortress, we can help you create the perfect vacation! Learn more about the area and where to go!
Where's the Dalmatian Coastline in Croatia?
Dalmatian Croatia is on the eastern shores of the Adriatic Sea and is home to many famous cities and tourist attractions. These include Zadar, Split, Dubrovnik, and the most beautiful beaches. While the largest hot spots can be busy, most of them are a short walk away on each island.
We know that many people are excited about visiting locations shown in Game of Thrones, and we can help you create a vacation that touches on all of them. Whether you want to see the King's Landing, Diocletian's Palace, or something else, there are so many different towns to enjoy.
However, the Dalmatian Coast isn't just about the sea. It borders Herzegovina and Bosnia for its entire length and shares a small border with Montenegro. Therefore, you can hike inland and see the beautiful mountain range of the Dinaric Alps.
Are you ready to enjoy Mljet Island or Brac Island and other fine areas of the southernmost region? If so, we can help you plan your trip because we know all about this town in Croatia. Let's learn a bit more about the islands, beaches, and other things this city has to offer.
Why Is the Croatian Dalmatian Coast an UNESCO World Heritage Site?
There are 10 UNESCO World Heritage Sites in Croatia, and the Dalmatian Coast is one of them. We know that Dubrovnik is one of them because it's the oldest medieval city in Europe. In fact, Dubrovnik rivaled Venice in Italy as a trading port. With that, the whole city is built within a wall and was there to provide protection during the 11th to 17th centuries. Though the walls still remain, they aren't used for keeping people out and are beloved and appreciated for their historic significance. This is a huge part of Dubrovnik's identity and one of the reasons it's listed.
Kayak on Dugi Otok Island and Jump in the Adriatic Sea
Dugi Otok Island is north of the Dalmatia Coast. Croatia is known for having small islands here and there, which you can explore. We can help you find travel guides and tours to any town or island you want to see in Croatia!
This island off the Dalmatian Coast is a long island at 45km long and never more than 4km wide. In a sense, it's like the kayaking spot for the island world.
The island has whatever you want, such as cliffs to jump into the Adriatic Sea, empty beaches, and beautiful waters. There are also alcoves and caves to explore, and it's not one of the most popular tourist spots. That means you can actually enjoy yourself and see things without bumping into hundreds of other people!
When you kayak to Dugi Otok, you can see amazing island scenery. Our main tip is to get a local guide so that they can lead you on the expedition. That way, you've got a chance to see the old shipwreck. Those who are particularly adventurous can grab snorkels and explore the area!
Summit Sutvid near Makarska
Sutvid is at the highest point at the southwest tip of Biokovo, though we know you might not understand what that means. Biokovo is the mountain range found in Croatia. When you climb to the top, you get a bird's eye view of the Dalmatian Coast. Though Sutvid isn't the highest peak, it does have an altitude of about 1155m. Still, it's a picturesque area.
At the top of the mountain, you can see HVAR Island and Vis, an old military base location. We think it's a beautiful place, and you can pick the next beach spot. On a very clear day, you can see much farther than HVAR Town into Italy!
Sutvid is about halfway between Split and Dubrovnik on the mainland, near Makarska. The entire trip covers roughly 11.5km, but it's at a steep elevation. Plus, it's likely to be hot, and there's not much water, so have water and appropriate gear if you go! We can help you plan your trip to this hidden gem! That way, you have the right equipment, route maps, and ideas on what to take with you while exploring!
Wild Camp in Northern Dalmatia
The Zrmanja River can only be found by flying to Zadar's Zemunik Airport. That's why this particular adventure pairs well with a GPS! Overall, this river is the adventure spot on the Croatian Dalmatian Coast.
We think it's fun to take kayaking trips through the river to zig-zag past high-rising cliffs and into intense, lush greenery. You can also make short stops along the way to play in the natural pools and enjoy the waterfalls. Then, you finally pass through Velebit Nature Park!
When you're finished kayaking for the day, it can be fun to wild-camp in the wilderness of Croatia. We bet you it's the best night's sleep you get in months!
Bicycle to the Top of Sveti Jure
The Biokovo Massif has very high mountain peaks, which is rare to see that close to the Adriatic Sea. However, that's what makes this area the perfect compromise for those who want beaches and hiking. Overall, the Dalmatian Coast is home to amazing beaches and island-hopping goodness, but it also has the Dinaric Alps.
That means there are plenty of cycling and hiking trails. Sveti Jure is a very demanding course, for sure. We can help you determine how long your group might take to get to the top and ensure that you get the right gear. In fact, we can arrange for a travel guide to go with you so that you don't get lost!
Sail Around Dalmatian Islands
Any sailing trips you take on the Adriatic coastline are sure to be amazing because of the Mediterranean climate and big views. However, the best ones are when you island-hop around the Croatian Islands off the Dalmatian Coast. It has tons of uninhabited islands you can explore, where the water is warm and turquoise, and the coastlines are dotted with cliffs.
The best sailing trips mean setting a route to go around them. However, we can help you find an experienced skipper to take you where the wind blows. See the largest city from far away, check out the town in a new style, and travel the Adriatic Sea as they did in the past.
Try the Vertical Race
If you want a more intense adventure than sitting on the beach and like to run, then the Paklenica Trail race is where you want to be. It runs each May on the Dalmatian Coast (to the north) at Paklenica National Park.
It starts in a small town called Starigrad-Paklenica and has various levels available. They are all scenic, with views that range from islands and forests to canyons.
Are you interested? We can help you plan your Croatia vacation around the time of the vertical race so that you can enter and have a once-in-a-lifetime opportunity!
Stand-up Paddle Board near the Split Peninsula (One of Many UNESCO World Heritage Sites)
Split is one of the biggest cities on the Dalmatian Coast and is the second largest in all of Croatia. This area is surrounded almost completely by water, making it a paddler's dream.
There's some rich history here, too. Diocletian was a Roman Emperor and built a 7-acre palace called the Diocletian's Palace in 295-305 CE.
As you stand-up paddle near the Riva, you can enjoy all the sights it has to offer. We just know that you can have a ton of fun here.
If you're very adventurous, you can get stand-up paddles at night to be on the Sea. Though you might not get to see much, we can help you locate rentals with LED lights. You can also just explore the old town of Split in the daytime, too!
Ciro Trail (Dubrovnik to Bosnia)
Everyone called Dubrovnik the old town for a reason. The town's main street, called Stradun, is filled with restaurants and shops to enjoy and narrow side streets to stroll around. You can even check out the city walls to get panoramic views of the sea or city.
Those who feel a little adventurous can take the Dubrovnik cable car to see Rector's Palace, the Roman Ruins, and much more.
In a sense, the old town (Dubrovnik) is a top tourist spot on the Dalmatian Coast. Many people like to use the cable car to see things from new heights. However, you can also take in the Roman Ruins or hike the Ciro Trail, which runs from Dubrovnik to Bosnia.
Right now, Croatia is trying to establish itself as a paradise for mountain biking. It hasn't quite caught on yet, but you can be the first to enjoy the scenic trails and routes. We can help you find tour guides to hire, equipment to rent, and all the rest. Contact us to get appropriate travel information for your journey!
Cetina River for Rafting
Tons of people visit Dalmatian Coast each year on vacation, and it's one of the top destinations in Europe. The place is a super-adventure spot with rivers, mountains, oceans, and lakes blended together with amazing culture and history.
However, the issue is that the city limits can be a huge pain to travel around. We know that Makarska Riviera, the Split, and Dubrovnik are picturesque and have everything you need to spend your time comfortably.
When you want to get off the beaten path, the Cetina River is something you shouldn't miss. It's not one of the well-known destinations and isn't famous, but it's located in the Dinara Mountains. This river flows through limestone formations and jungle-type forests. Though there isn't a beach you can stop at, it's still a beautiful spot that compares to Dubrovnik but with fewer people!
Conclusion
Whether you want to go to the southernmost region of Croatia's Dalmatian Coast or see Old Town Dubrovnik, you can't beat the city's history.
Overall, it's one of the top destinations in the South Adriatic Sea because of its beach options and boat excursions. You shouldn't miss this location, and we offer Dalmatian coast tours to help you see all the sights you want. Contact us to get more travel information!
Included

Best of the Dalmatian Coast – Croatia
1
Day 1 - Arrive in Zadar
Zadar is a treasure trove of archaeological treasures and monuments to the ancient, medieval and Renaissance periods. This is visible by a number of sacral and architectural monuments – the church of sv. Donat [St. Donatus] where every summer the sounds of Zadar's musical evenings echo, the Roman Forum near the main square, Kalelarga - the longest and widest street, the Cathedral of sv. Stošije [St. Anastasia], an Archaeological Museum with its exceptional treasures and many other monuments of cultural and historical heritage (town gate, Arsenal, churches, museums...). 
In a city with the most beautiful sunset, in a maritime archipelago facing a multitude of islands and islets, which protect the city from the strong winds, enjoy the symphony of the Sea Organ and magical urban light installation Pozdrav suncu [Greeting the Sun] near the new harbor for cruise ships. 
Upon arrival private transfer from Zadar Airport to the Old City of Zadar
Check-in to your centrally situated hotel
Private evening walking city tour of Old Zadar
Welcome dinner at the local restaurant
Overnight in Zadar
2
Day 2 - Zadar – Krka Waterfalls National Park Tour – Zadar
The largest part of this amazing river's course is the national park, which in addition to its natural phenomena abounds with cultural and historical monuments. The most outstanding of these is the Franciscan monastery on the tiny island of Visovac, set in the middle of the lake widening in the river like a precious stone. Within the monastery, there is a picture gallery and a church, origins of which are traced back to the 14th century. In the middle of the canyon, upstream of the river, is an interesting Krka Orthodox monastery; while on the high ground above the river several old ruins sit. The old mills, which have been transformed into small ethnographic museums where one can see how wheat was ground in the olden days, are a popular attraction for visitors. Heritage interpreters are dressed in traditional folk costumes, which is particularly interesting and entertaining for children, who are frequent visitors of the park. However, the main attraction of Krka National Park lies in its seven waterfalls. The widest of these is Roški slap, although Skradinski Buk is the biggest and most well-known.
Meeting with your driver/ guide for a full-day excursion to the National Park Krka.
Enjoy the natural beauties of the waterfalls, take the educational trails and admire ethno presentations "in situ"
Wine-paired dinner at a world-renowned konoba/tavern and winery
Return to Zadar for an overnight
3
Day 3 - Zadar – Šibenik – Trogir – Split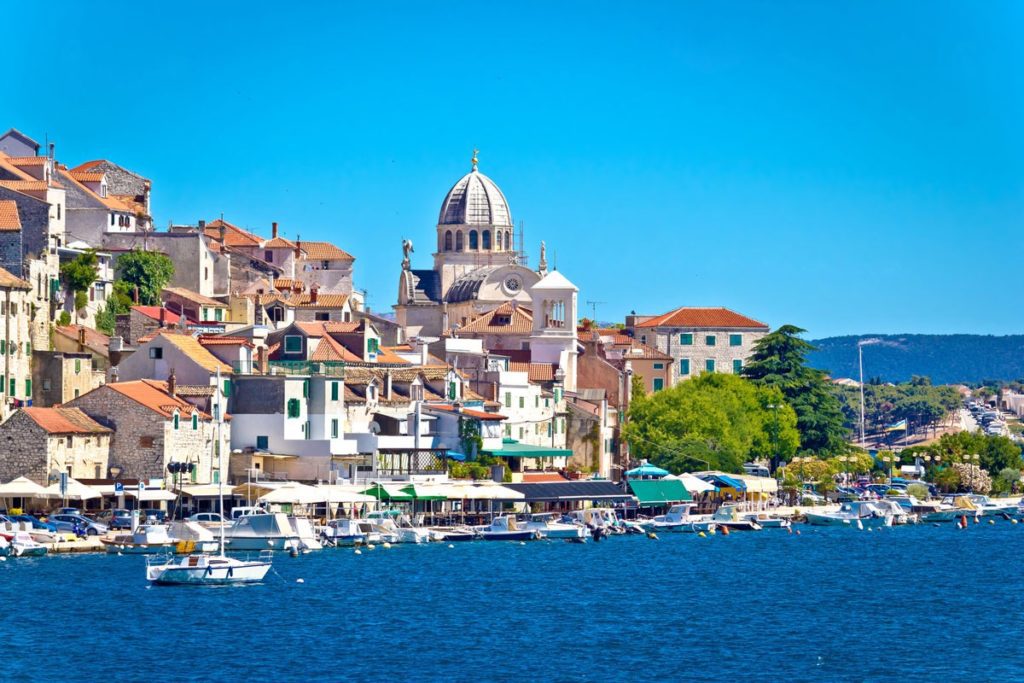 Šibenik - unique because of its fortresses and towers such as Sv. Mihovil [St. Mihovil], Sv. Nikola [St. Nicholas], Sv. Ivan [St. John] and Šubićevac, Šibenik is most famous for the cathedral of Sv. Jakov [St. Jacob] that was built in the 15th century. Constructed by the masterful hands of Juraj Dalmatinac and Nikola Firentinac, and because of its original architecture of large stone slabs, this cathedral was entered on the UNESCO list of world heritage and voted at the same time to be the most beautiful sacral building in Croatia.
Breakfast at the hotel and check-out.
Meeting with your driver for a private transfer to Split with en-route stops in Šibenik and Trogir.
Upon arrival to Šibenik meet the local guide for a private walking tour of Old Town Šibenik.
Browse this beautiful historic town before a unique meal experience at a Michelin star awarded restaurant (drinks to be paid on spot).
Onward drive to Trogir and time to explore the city accompanied by a local English-speaking guide.
Upon arrival, a private walking tour of Old Town Trogir will follow.
Continue your trip to Split and accommodation in your centrally situated hotel in Split.
Overnight in Split.
4
Day 4 - Split – Vis
Olives, indigenous aromatic plants, the brilliancy of white stone against the verdant vegetation, and the towering mountain massif of Biokovo whose spurs reach all the way to the sea – yes, this is indeed an exceptional part of the country, and its beauty is made all the more enchanting by numerous historic events and monuments, and cultural manifestations. In short, this is an ever-interesting region full of attractions that draw a great many visitors.
When, in the year 305, the Roman Emperor Diocletian, who ruled the entire world then, decided to build his leisure time abode - in which he intended to spend the rest of his life - he had no doubt as to exactly where to make it. In the very heart of Dalmatia, in the bay of Aspalathos (Split), well protected from the sea by the islands of the Split archipelago, and defended on its landward side by high mountains, Diocletian created a special point on the map of the Adriatic: the future city of Split.
Breakfast at the hotel
Meeting with your guide for a private walking tour of Split
Assistance with your luggage and ferry tickets from Split to Vis Island
Accommodation in your centrally situated hotel
Time at leisure and overnight in Vis
5
Day 5 - Vis – Biševo
Vis - the furthest island of the central Dalmatian archipelago. It is especially well known for its cultural and historical heritage, but also for its natural beauties. Even the Greek writer Agatharchides in his scripts praised wines from Vis as being the best he had ever tasted, in comparison to other sorts he had tried. Their most autochthonous wine is most certainly Vugava which you can try in numerous restaurants and cellars all around the island. We recommend you try their autochthonous Viška pogača which will definitively go well with their wines. Vis is also known as one of "the forbidden islands" during the communistic era. It was the center of the Yugoslav navy and therefore was forbidden to tourists. Even today there are many hidden tunnels all around the island that testify to that fact. Some of them are now tourist attractions and others are used by the Croatian navy.
Meeting with your skipper for a full day private speed boat excursion to the Island Biševo and Blue Cave (entrance fees not  included)
Return to Vis Island
Overnight in Vis
6
Day 6 - Vis – Hvar
The gently rolling hills, spectacular beaches, lush vineyards, and vibrant nightlife of Hvar make it the perfect island getaway. Take a stroll down the medieval streets of this lovely island and you will encounter imposing fortifications that testify to the island's ancient history.
The lavender island that Conde Nast's signature travel magazine called "one of the "best 10 islands in the world". A vacation on the lavender island of Hvar means extraordinary experiences every day - from visiting an ancient olive grove and learning about what Homer called "liquid gold", taking a Jeep safari to discover hidden inland Hvar to exploring a castle, visiting the oldest theatre in Europe or tasting spectacular wine and local delicacies at an award-winning vineyard.
Breakfast at the hotel and check-out.
Meeting with your skipper for a private speed boat transfer from Vis island to Hvar Island
Upon arrival to Hvar island accommodation in your centrally situated hotel
Time at leisure and overnight in Hvar
7
Day 7 - Hvar
Breakfast at the hotel and morning at leisure.
Our wine tour begins in Hvar town with a drive to the other side of the island to the island's most important wine region. Continuing further we'll visit two of the most famous Croatian winemakers. The wine tour includes two wineries of our choice (depending on availability).
Vina Carić
Residing in Vrboska, the Carić family have been involved with vineyards for as long as they remember, however it was not before Vino Hvar d.o.o. was established that they started producing their own wines, "Carič wines". Their work in the vineyards is just as important to them as their work in the winery. They have 5 hectares of vineyards in a specially designated wine-growing area known as "Vinogorje Hvar." They also purchase a minimal amount of grapes from contract growers to complement their crop. They also grow indigenous varieties: Plavac Mali, Bogdanjuša, Kuč, Maraština, Darnekuša, and Pošip. Their wines have an individual story from the vineyard to the winery.
Bastijana – Drink to hours, not on liters
Situated in Jelsa, a small coastal town that has a very proud and long wine-making tradition. The Tomić family and ten other people from the island of Hvar work in the winery. They cultivate indigenous grapes but experiment with new ones as also. They are constantly enhancing the production of red, white, and rose varieties with modern technologies, but pay particular attention to Prošek, the original Dalmatian wine made from selected and dried grapes of the highest quality local varieties.
Duboković – 2718 hours in the bottle
Situated also in Jelsa, you will have a chance to taste what it's like to try "2718 hours in the bottle". Young and ambitious "wine newcomers" without vineyards or with very small land plots.
Their feeling belief is that basing wine production on grapes purchased from other farmers can't possibly be as good as coming from your own vineyard. Here in Croatia, Dubokovic wines have become a "must-have" in the finest restaurants, hotels, and specialized wine shops. Dubokovic – Medvid wines now have the distinction of being the most expensive regular vintage wines in the country.
Zlatan otok
In the Sv. Nedjelja village, by the waterside, the Plenković family formed their horticulturist company in early 1986. Their vineyards are to the south of Hvar island and on Makarska vineyards below Mt. Biokovo. The wine tasting is held in a unique underwater wine cellar overlooking the bottom of the sea. At each wine cellar, you will have the opportunity to taste 4 – 5 different wines together with a personalized wine guide, who will describe the individual wines and provide the information needed to satisfy your curiosity, with the island's finest local appetizers.
After the wineries, we head to a spectacular Traditional Dalmatian dinner in a charming abandoned village.
Return to Hvar town for a time at leisure and overnight in Hvar
8
Day 8 - Hvar – Ston – Dubrovnik
Ston is a small Mediterranean town situated on the Pelješac Peninsula, with a history that reaches back as far as the 14th century. It is a small town with the longest stone wall in Europe(5,5km), with narrow quiet streets, noble ancient houses, and traces of ancient cultures. Its former value as a "salt city" gets confirmed even today in the plants of the oldest active salt works in the world. These saltworks have remained faithful to the tradition and to the natural way of salt production which has not changed since the remote ages.
The town is best known for its oyster and mussel beds, and during your tour, you will not only participate in oyster harvesting but also be served fabulous versions of these shellfish along with traditional dish buzara for light lunch. Pelješac peninsula is renowned for its spectacular coastline and historic towns and wine production. Enjoy the magnificent peninsula scenery and picturesque vineyards. You can start this tour with a visit to Ston, a town famous for its 5 km long defensive wall, the second largest in the world, right after the Chinese wall, and finish in Mali Ston, the center of oyster production in Croatia.
Breakfast at the hotel and check out
Assistance with your luggage and fast ferry tickets from Hvar to Split
Upon arrival at Split Port meet with your driver and a private transfer to Dubrovnik with an en-route stop in Ston. 
Lunch and oyster harvesting experience in Hodilje
Onward drive to Dubrovnik. As the car heads further you will have a great opportunity to enjoy the picturesque hillside of Dalmatia's magical interior: a unique blend of high mountains and small patches of fertile fields. It is part of the country that looks as if it was stopped in time.
Accommodation in Dubrovnik and overnight.
9
Day 9 - Dubrovnik – Kotor – Dubrovnik
This notable coastal region is of primary interest to tourists in Montenegro. The Montenegrin Adriatic coast is 295 km long, with 72 km of beaches, and with many well-preserved ancient old towns. The main attractions along the north coast are: The Old Town of Herceg Novi, The old town of Kotor - listed with UNESCO world heritage sites, Boka Kotorska (Bay of Kotor), with the ancient small town of Perast, The old town of Budva - a well preserved old town, Sveti Stefan -  a small island hamlet turned into a luxury hotel, etc. Visit the town of Risan with a Roman villa and its exceptionally well-preserved mosaics from the 2nd and 3rd century AD.  Next, a short boat ride from the baroque shore town of Perast will take you to one of the two islets in the Bay to visit the Church of Our Lady of the Rocks.
Breakfast at the hotel
Meeting with your driver for a private excursion from Dubrovnik to UNESCO-protected Kotor.
Upon arrival meet with your local guide for a private walking tour of Kotor (max 2 hours) followed by time at leisure.
Return to Dubrovnik for an overnight
10
Day 10 - Dubrovnik
Dubrovnik is a medieval city on the Croatian side of the Adriatic coastline and a treasure trove of cultural, historical monuments that were created throughout its thousand-year existence.   In the past, it was a City-Republic, and alongside Venice one of the most famous cultural-economic centers on the Mediterranean. In more recent times, it has become the center of modern cultural and tourist events: a city of summer festivals – an international parade of top musical and theatrical achievements, a city of museums and galleries. These values have turned Dubrovnik into a place that offers a rich selection of various experiences and excitement, but also a complete holiday in a quiet and calming, mild Mediterranean ambiance and wonderful seaside landscapes.
Breakfast at the hotel
Meeting with your guide for a private walking city tour of Dubrovnik (transfer to the meeting point and back included). 
Time at leisure to explore the town further on your own
OPTIONAL: Visit the Dubrovnik City Walls - the city walls are considered to be one of the most grandiose fortification monuments in Europe. The first fortifications were built already in the 8th century, but the most intense construction took place from the mid-15th to the end of the 16th century. The huge earthquake in 1667 did not do much damage.
OPTIONAL: Take the Dubrovnik Cable Car and reach a unique viewpoint above the city (on your own)
Enjoy a farewell dinner at one of the local restaurants in Dubrovnik (drinks to be paid on spot)
Return to your hotel (on your own) for an overnight.
11
Day 11 - Dubrovnik
Check out and a transfer to the Dubrovnik Airport
Best of the Dalmatian Coast Tour package includes:
ALL PRIVATE and ENGLISH-SPEAKING GUIDES AND DRIVERS
VAT TAX INCLUDED
24hr concierge and in Croatia assistance
Assistance and private transfer from Zadar Airport to Zadar upon arrival accompanied by an English-speaking driver
Private evening walking tour of Zadar accompanied by an English-speaking guide
Three-course dinner (seafood) in a local restaurant in Zadar (drinks not included)
2 nights in a 4* hotel in Zadar, double room, BB basis
Private full-day excursion to Krka National Park in a modern air-conditioned vehicle accompanied by an English-speaking driver/guide with entrance fees to Krka National Park
Wine-paired dinner at a world-renowned konoba/tavern and winery
Assistance and private transfer from Zadar to Split with an en-route stop in Šibenik accompanied by an English-speaking driver
Wine paired degustation menu for lunch at renowned Šibenik restaurant
1 night in a 4* hotel in Split, double room, BB basis
Private walking tour of Split accompanied by an English-speaking guide
Assistance with luggage and ferry tickets from Split to Vis
2 nights in a 4* hotel in Vis, double room BB basis
Private speed boat excursion around the island Vis, to the Blue cave and to Biševo island, to the bays Porat, Stiniva, to the Green cave, Budihovac islet for swimming or lunch.
Included: skipper, speed boat, gasoline, insurance Not included: entrance fee to Blue Cave, lunch
Assistance with luggage and private speed boat transfer from Vis to Hvar (skipper, fuel, and refreshment included)
2 nights in a 4* hotel in Hvar, double room, sea view, BB basis
Hvar wine tour - Private wine tasting of Hvar island with dinner in the olive grove
Assistance with your luggage and fast ferry tickets from Hvar to Split
Private transfer from Split to Dubrovnik with an en-route stop in Ston accompanied by an English-speaking driver
Oyster harvesting and typical local lunch with the local oystermen
3 nights in a 5* hotel in Dubrovnik, double room, sea view, BB basis
Private excursion from Dubrovnik to Kotor in a modern, air-conditioned vehicle
English speaking guide in Old Town Kotor (entrance fees not included)
Private round-trip transfers from your hotel in Dubrovnik to Pile Gate meeting point in a modern, air-conditioned vehicle
Official English speaking guide for a private walking tour of Old Town Dubrovnik (entrance fees not included)
Farewell dinner at Local restaurant in Dubrovnik (drinks not included)
Private transfer from your hotel to Dubrovnik Airport accompanied by an English-speaking driver
Program does not include:  
Meals and drinks not mentioned above
Airfare, Travel Insurance
Additional excursions and/or services not mentioned in the program
Personal expenses (internet, telephone, mini bar, etc.)
Tips and porterage services
Available dates upon request
Travel between late May - October
Double occupancy, Solo traveler with supplement
Customizable! Make this your own, custom experience
The 8-day tour, as listed, price starting at $3295 per person, double occupancy
Price and availability are subject to change based on travel dates, availability, hotels