Best of the Region – Multi-City Tour
Experience gorgeous world-class hotels or charming boutique cottages with tranquil spas, private champagne dinners serving regional foods, and popular bars and nightclubs hopping with excitement.
Moreover, private guided tours of ancient cities with monuments, museums, and galleries await at every turn. Find cultural beauty, charming little shops, and delicious restaurants to entertain and delight.
Furthermore, along with outdoor adventure, spend time with fun activities for two. As well as snorkeling in crystal clear inlets, there's time for soaking up the sun. Along with hiking lavender-scented trails or kayaking along the coves of the islands.
13 Day Custom, Private Land Tour – Along the Dalmatian Coast
Visiting: ZADAR – KRKA NATIONAL PARK – ŠIBENIK – SPLIT – TROGIR – VIS – BIŠEVO – HVAR – KORCULA – MOSTAR – DUBROVNIK
Curious what our other clients have said about Adventures Croatia? Read some of their reviews.
1
Day 1: Arrive in Zadar
Zadar is a treasure trove of archeological treasures and monuments to the ancient, medieval and Renaissance periods. This is visible by a number of sacral and architectural monuments – the church of sv. Donat [St. Donatus] where every summer the sounds of Zadar's musical evenings echo, the Roman Forum near the main square, Kalelarga – the longest and widest street, the Cathedral of sv. Stošije [St. Anastasia], an Archaeological Museum with its exceptional treasures and many other monuments of cultural and historical heritage (town gate, Arsenal, churches, museums…). In this city, with the most beautiful sunsets, facing a maritime archipelago of islands and islets, which protect the city from the strong winds, enjoy the symphony of the Sea Organ and the magical urban light installation "Pozdrav Suncu" [Greeting the Sun] near the new harbor for cruise ships.
Itinerary
Upon arrival private transfer from Zadar Airport (or Split Airport) to Old City of Zadar
Check-in at the Hotel 4*
Private walking city tour
Dinner at a local restaurant
2
Day 2: Zadar – Krka National Park – Zadar
Krka National Park: The largest part of this amazing river's course is the national park, which, in addition to its natural phenomena, abounds with cultural and historical monuments. The most outstanding of these is the Franciscan monastery on the tiny island of Visovac, set in the middle of the lake widening in the river like a precious stone. Within the monastery, there is a picture gallery and a church, origins of which are traced back to the 14th century. In the middle of the canyon, upstream of the river, is an interesting Krka Orthodox monastery; while on the high ground above the river several old ruins sit. The old mills, which have been transformed into small ethnographic museums where one can see how wheat was ground in the olden days, are a popular attraction for visitors. Heritage interpreters dress in traditional folk costumes, which is particularly interesting and entertaining for children, who are frequent visitors of the park. However, the main attraction of Krka National Park lies in its seven waterfalls. The widest of these is Roški Slap, although Skradinski Buk is the biggest and most well known.
Itinerary
Meeting with your guide and a driver for a full-day excursion to the National Park Krka
Wine pairing at local wine cellar
Return to Zadar for an overnight
3
Day 3: Zadar – Šibenik – Split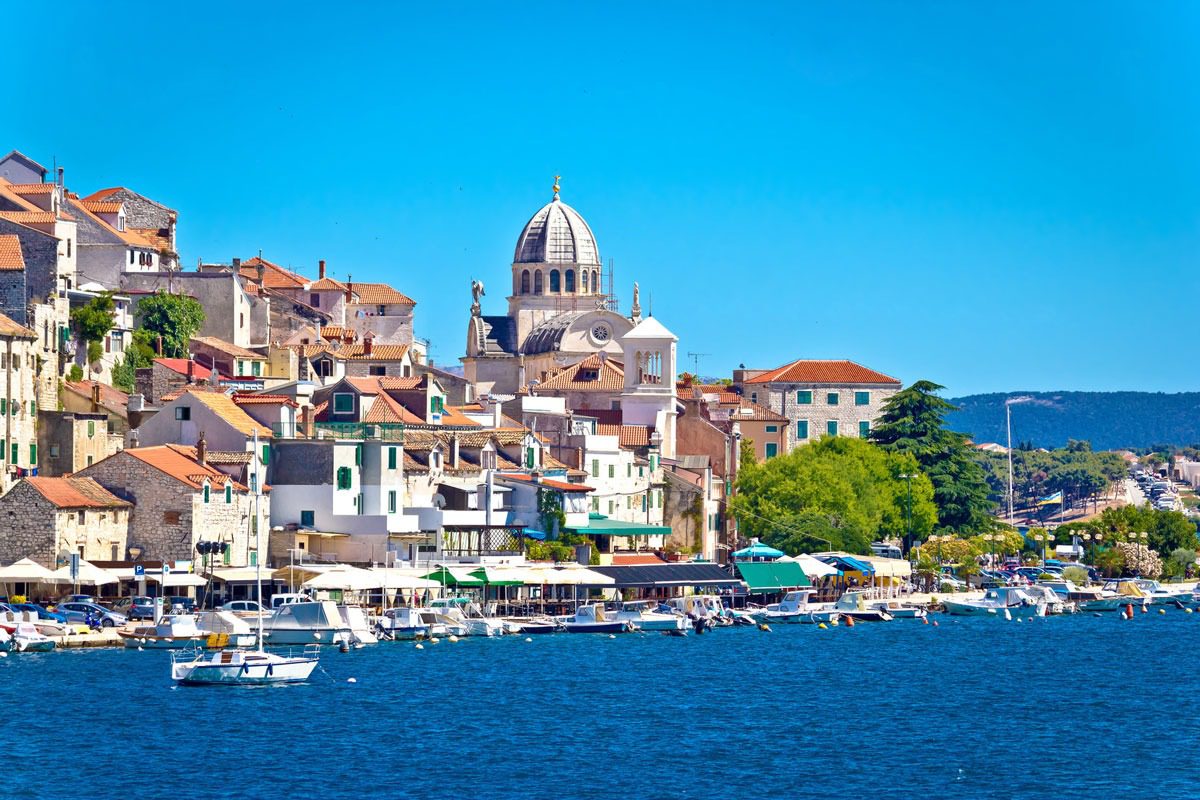 Šibenik – unique because of its fortresses and towers such as Sv. Mihovil [St. Mihovil], Sv. Nikola [St. Nicholas], Sv. Ivan [St. John] and Šubićevac, Šibenik is most famous for the cathedral of Sv. Jakov [St. Jacob] that was built in the 15th century. Constructed by the masterful hands of Juraj Dalmatinac and Nikola Firentinac, this cathedral was entered on the UNESCO World Heritage Site list and voted, at the same time, to be most beautiful sacral buildings in Croatia.
Itinerary
Meeting with your driver and a private transfer to Split with en route stop in Šibenik
Time at leisure
Special Adventures Croatia lunch at a local restaurant
Accommodation at Hotel 4*
Overnight
4
Day 4: Split
Olives, indigenous aromatic plants, the brilliancy of white stone against the verdant vegetation and the towering mountain massif of Biokovo, whose spurs reach all the way to the sea – yes, this is indeed an exceptional part of the country, and its beauty is made all the more enchanting by numerous historic events, monuments, and cultural manifestations. In short, this is an ever-interesting region full of attractions which draw a great many visitors. When the Roman Emperor Diocletian, who ruled the entire Western world at the time, decided to build his leisure time abode where he intended to spend the rest of his life – he had no doubt as to exactly where he would build to it. In the very heart of Dalmatia, on the bay of Aspalathos (Split), well protected from the sea by the islands of the Split archipelago, and defended on its landward side by high mountains. In the year 305, Diocletian created a special point on the map of the Adriatic: the future city of Split.
Itinerary
Meeting with your guide at the hotel reception for a walking city tour
Time at leisure
Overnight at the hotel
5
Day 5: Split – Trogir – Split
Trogir, a harmonious stone town on a small island that is connected to the mainland and the island of Čiovo by bridges. The old town, under UNESCO World Heritage Site protection, is a treasure trove for lovers of art, Renaissance and Baroque buildings, Romanesque churches… It is called the town-museum which is visible in the famous portal of Trogir cathedral by the craftsman Radovan in 1240, a Renaissance city lodge, the thousand-year-old Monastery of sv. Nikola [St. Nicholas] which has the ancient famous relief of Kairos preserved in it from the 4th century BC.
Itinerary
Meeting with your driver at the hotel reception for a drive to Trogir
Very special Adventures Croatia cooking class in Trogir with a local Private Chef
Spend a day of shopping, cooking, and dining with our passionate Croatian chef. Begin your lesson in the market selecting food (a guided stroll through the town of Trogir is included), make a cooking plan over tea, prepare, cook, eat, drink, everything inside her charming home. The courses can include a salad with figs and cheese, baked mussels with bread crumbs, monkfish, zucchini spaghetti, and grilled tomatoes, apple cake accompanied by prosecco and several glasses of wine
Return to Split
Time at leisure and overnight at the hotel
6
Day 6 Split – Vis
Itinerary
Morning at leisure
Fast ferry to Vis Island
Accommodations at Hotel 4*
7
Day 7: Vis – Biševo
Vis is the furthest island of the central Dalmatian archipelago. It is especially well known for its cultural and historical heritage, but also for its natural beauty. Even the Greek writer Agatharchides, in his scripts, praised wines from Vis as being the best he had ever tasted. Their most local and indigenous wine is Vugava, which you can try in numerous restaurants and cellars all around the island. We recommend you try their autochthonous Viška pogača which will definitively go well with their wines. Vis is also known as one of "the forbidden islands" during the communist era. It was the center of the Yugoslav navy and therefore was forbidden to tourists. Even today there are many hidden tunnels all around the island that testify to that fact. Some of them are now tourist attractions and others are used by the Croatian navy.
Itinerary
Meeting with your guide for a full-day excursion to the Island Biševo
Return to Vis Island
Overnight at Hotel 4*
8
Day 8: Vis – Hvar
The gently rolling hills, spectacular beaches, lush vineyards, and vibrant nightlife of Hvar make it the perfect island getaway. Take a stroll down the medieval streets of this lovely island and you will encounter imposing fortifications that make a statement of the island's ancient history. This lavender island was named by Conde Nast's signature travel magazine as "one of the best 10 islands in the world". A vacation on the lovely island of Hvar enables extraordinary experiences every day – visit an ancient olive grove and learn about what Homer called "liquid gold", take a Jeep safari exploring inland Hvar, climb a castle, visit the oldest theatre in Europe, taste spectacular wine and local delicacies at an award-winning vineyard, discover hidden coves throughout the Pakleni islands.
Itinerary
Meeting with your skipper for a private transfer to Hvar Island
Accommodation at Hotel 4*
Private transfer from your hotel to Pakleni Islands for lunch at one of our favorite island restaurants and swim and snorkel
Return to your hotel for an overnight
9
Day 9: Hvar – Korčula
Korčula was first mentioned as early as the 10th C. in works of Byzantine historians under the name "Stone Town". It flourished during Venetian government rule and later on it spread beyond the town walls. In spite of all that, it is still most famous as the birthplace of Marco Polo, who was probably born here in 1254. A reminder of him can be seen all around the town, including the very interesting Marco Polo Museum which is something you definitively don`t want to miss when visiting this beautiful Dalmatian town. Today, the town of Korcula is where you can vividly feel the Mediterranean spirit of people who live and work in this mixture of Gothic, Renaissance and Baroque architecture.
Itinerary
Meeting with your guide at the hotel reception for a private full-day excursion to Korčula Island
Possible Moreška performance – the sword dance of Korčula
Return to Hvar Island for an overnight
10
Day 10: Hvar – Ston – Dubrovnik
Dubrovnik is a medieval city on the Croatian coastline of the Adriatic Sea, and a treasure trove of cultural, historical monuments that were created throughout its thousand-year existence. In the past, it was a City-Republic, and alongside Venice, one of the most famous cultural-economic centers on the Mediterranean. In more recent times, it has become the center of modern cultural and tourist events: a city of summer festivals – an international parade of top musical and theatrical achievements, a city of museums and galleries. These values have turned Dubrovnik into a place that offers a rich selection of cultural energy, alongside a complete holiday in a quiet and calming, mild Mediterranean ambiance with wonderful seaside landscapes.
Itinerary
Meeting with your driver and a private transfer to Dubrovnik with an en-route stop in Ston
Lunch and oyster harvesting experience
Private walking city tour of Dubrovnik
11
Day 11: DUBROVNIK
Itinerary
Meeting with your instructor for a day of sea kayaking experience around the City Walls, down to Lokrum island and back
Accommodation at Hotel 4*
Overnight
12
Day 12: Dubrovnik – Mostar – Dubrovnik
Mostar is situated on the Neretva river and is the fifth-largest city in the country. It was named after the bridge keepers (natively: mostari) who in medieval times guarded the Stari Most (Old Bridge) over the Neretva. The Old Bridge, built by the Ottomans in the 16th century, is one of Bosnia and Herzegovina's most recognizable and symbolic landmarks and is considered one of the most exemplary pieces of Islamic architecture in the Balkans.
Itinerary
Meeting with your driver and a guide for a full-day private tour to Mostar
Walking city tour of Mostar
Return to Dubrovnik
Farewell dinner at Komarda Restaurant
Accommodation at the Hotel 4*
Overnight
13
Day 13: Dubrovnik – Departure day!
Private transfer from your hotel to the airport.
Best of the Region – Zadar to Dubrovnik – 13 Day package includes:
Private transfer from Zadar Airport to Zadar Old Town
2 nights at Hotel 4* in Zadar – double room (BB basis)
Private walking city tour of Zadar
Three-course dinner at a local restaurant (drinks not included)
Private full-day excursion to Krka National Park accompanied by English speaking guide in a modern, air-conditioned car with entrance fees
Wine pairing at a local wine cellar
Private transfer from Zadar to Split with en-route stop in Šibenik
Lunch at a local restaurant with wine pairing
3 nights in Hotel 4* in Split – double room (BB basis)
Private transfer from Split to Trogir and back to Split
Private cooking class with market experience
Private walking city tour of Split
Assistance and tickets for the ferry to Vis Island
2 nights Hotel 4* in Vis – double room (BB basis)
Private full-day excursion by boat around the Vis Island and to Biševo Island with entrance fees (skipper, fuel, tickets included)
Private motorboat transfer from Vis to Hvar
2 nights at Hotel 4* in Hvar – Superior Sea View room (BB basis)
Private speed boat transfer (unique adrenaline rush experience) to Paklinski islands for lunch (three-course lunch – drinks not included)
Private motorboat full-day excursion to Korčula Island and entrance fees
Private car transfer from Hvar via Drvenik port and Ston to Dubrovnik including ferry fees
Private oyster harvesting and traditional lunch in Ston
Official English speaking guide for the walking city tour of Dubrovnik
Entrance fees for sightseeing places in Dubrovnik (Rector's Palace, Dominican Monastery, Maritime Museum, City Walls)
3 nights accommodation in Dubrovnik 4*(BB basis), superior double room
half-day sea kayaking experience
Private full-day excursion to Mostar in a modern, air-conditioned car, city tour of Mostar and entrance fees
farewell dinner at a local restaurant (three-course dinner without drinks)
Private transfer from Old City Dubrovnik to Dubrovnik Airport (based on individual calculation for 2 pax)
City taxes
VAT
Program does not include:  
Meals and drinks not mentioned above
Airfare, Travel Insurance
Additional excursions and/or services not mentioned in the program
Personal expenses (internet, telephone, mini bar, etc.)
Tips and porterage services
Available dates upon request
Travel between late May - October
Double occupancy, Solo traveler with supplement
Customizable! Make this your own, custom experience
The 13-day tour, as listed, price starting at $5850 per person, double occupancy
Price and availability are subject to change based on travel dates, availability, hotels