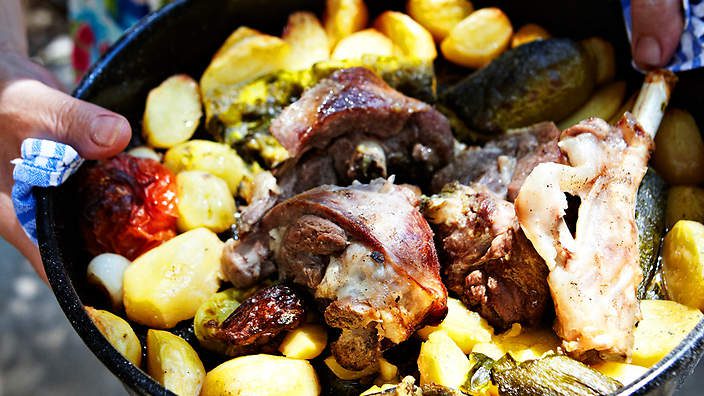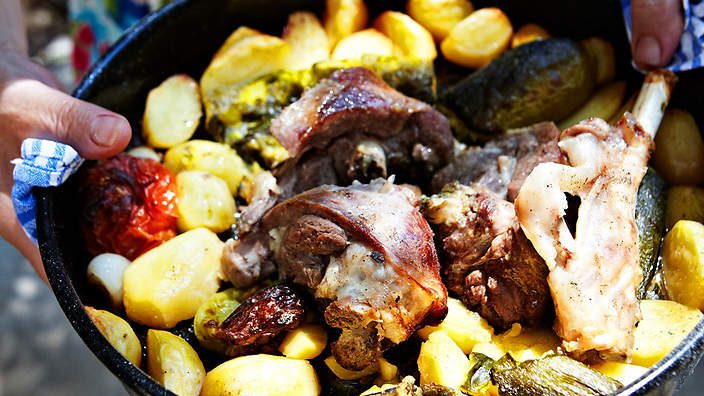 Lamb Peka Recipe
Ingredients
5.5lb lamb (lamb shoulder with bone in, or leg)
2.5lb small potatoes, halved
2 onions, quartered
8 garlic cloves
1 tomato
1 small eggplant, halved
1 green bell pepper
2 zucchinis, halved lengthwise
3 rosemary sprigs
60 ml(¼ cup) olive oil
250 ml(1 cup) dry white wine
Instructions
If you don't have a peka, you can cook this dish in a cast-iron casserole pan with a lid for 3½ hours at 160°C, and add all the wine at the start.
Allow barbecue time to die down
Build a hot crackling fire in a barbecue hearth and allow it to burn down to hot coals.
Place all ingredients, except the wine, in the peka dish. Cover with lid, place into prepared hearth and pile the hot coals on top of the dome.
Cook for 1 hour, remove peka from underneath the hot coals and remove lid. Using tongs, turn meat and vegetables, and add wine, then cover with lid and replace hot coals on top. Cook for a further 45 minutes or until meat is meltingly tender, and vegetables are soft.