6 Day Private Land Journey
Visiting: SPLIT – BRAČ – KORČULA – PELJESAC PENINSULA – DUBROVNIK
---
Discover ancient Greek, Roman and Venetian architecture and their influence molded perfectly in one of the most beautiful areas in Europe, which proudly markets itself as "Mediterranean as it once was". From Split to Dubrovnik, cycle on the islands of Brač, Hvar, Korčula and the Pelješac peninsula. Taste authentic meals originated by the culture and cuisine from central, mostly French and Italian, and south-eastern parts of Europe, discover UNESCO World Heritage Sites and learn about the traditional, relaxed and easy-going lifestyle of Mediterranean citizens. Join us on a bike tour where you will have a great and fun vacation while enjoying spectacular views, swimming in the crystal clear sea, exploring medieval towns and tasting our local wine, figs, grapes, olive oil and much more!
Our Dalmatia Coast bike tour can accommodate cyclists who want to ride more than suggested in the itinerary (due to our detailed maps) and leisure cyclists who can hop on our support van at any time. The bikes provided are hybrid touring or road racing bikes, custom-built for our specific terrain in Croatia. Due to triple chain ring, adjustable stems, 7 different frame sizes, various seat and pedal options, we can easily customize these bikes for your riding style! This cycling vacation is designed for those who prefer to play outside, experience the local culture and have fun, but still expect a high level of service!
DAY 1
Split – Diocletian's Palace
The tour starts in Split in the morning hours, when you will get a chance to meet your guides who will fit the bikes for you. Depart for the rolling coastal ride before an easy climb to the top of the park-wood Marjan, with the breathtaking view of the city and the surrounding islands. When you return to the town center, you might want to enjoy lunch in one of the numerous restaurants overlooking the Adriatic Sea. As the sun sets, discover the ancient Palace and local lifestyle during a private guided tour. Split is a pulsating urban oasis with a myriad of sights, sounds, and smells, all thriving inside these almost two millennia old walls. Locals and visitors find themselves inexorably drawn into spending most of their time within 1,700-year-old Roman Emperor Diocletian's Palace, one of UNESCO's World Heritage sites. In this great palace, there are still real homes existing in the old walls and you can see old ladies stringing their laundry at places where once state affairs of the entire Roman Empire were discussed. We will have an introductory dinner tonight in a family-owned "Konoba".
Suggested biking distance: 17 km – Moderate option: 35 km – Long option: 75 km
Overnight stay: Split
Highlights: Bike ride Split, guided tour of Split and Diocletian's palace, Marjan hill
Meals: Dinner
DAY 2
Brač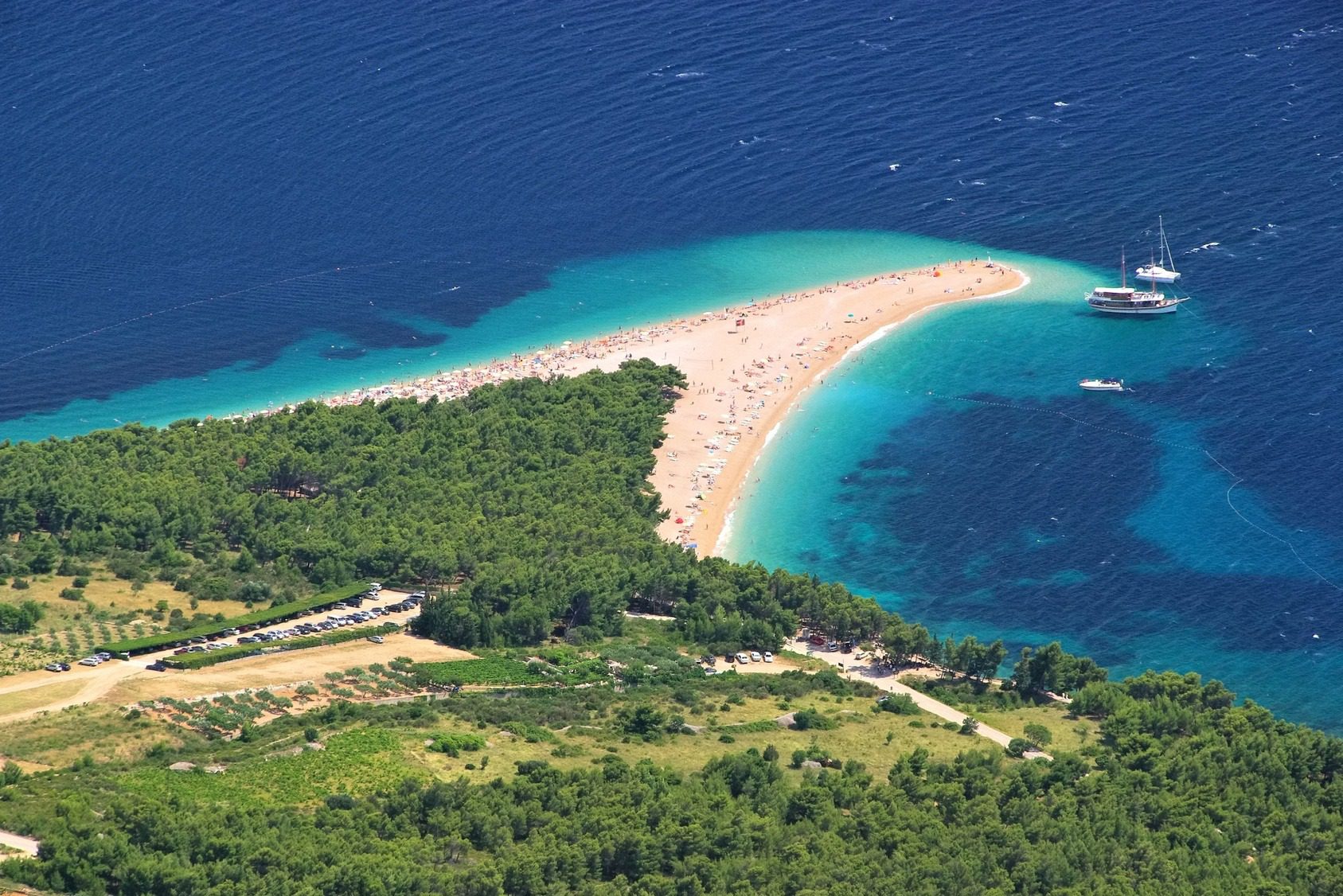 Today we discover our first island, Brač. Situated just off the Croatian mainland, you will enjoy a pleasant ferry ride to Supetar from where our bike exploration starts! Discover coastal and ancient inland stone-built towns, olive groves, vineyards and other beautiful sights along the way. Brač is famous for its tradition of stone cutting and carving. Stones from Brač can be found at the White House in Washington D.C., The Hungarian Parliament Building, and Roman Emperor Diocletian's Palace. We will visit a unique family-owned art gallery where exhibits one-of-a-kind furniture made from Brač Stone, sculptures, paintings, jewelry and ancient stonemason workshop can be seen. Following the visit, we cycle to the coast where (time permitting) we might enjoy a short swim break, before return to Split.
Suggested biking distance: 35 km – Easy option: 28 km – Long option: 60 km
Overnight stay: Split
Highlights: the Island of Brač, art gallery, coastal and inland towns
Meals: Breakfast, lunch
DAY 3
Hvar
Welcome to the island of Hvar – one of the world's Top 10 destinations! We will start the day with an easy ride around the UNESCO World Heritage site of Stari Grad, an ancient Greek colony dating back to 400 BC. Besides famous historical sites you will also discover quiet and charming towns while biking along the roads surrounded by olive gardens, vegetable patches, orchards and vineyards. We will enjoy a light Mediterranean-style lunch before our bike exploration of Hvar continues.
The afternoon bike ride will take us along one of the most beautiful roads, passing through lavender fields and being surrounded by amazing views of the Dalmatian archipelago – Vis, Korcula, Lastovo, Brač and Pakleni islands. For the afternoon activity in Hvar, we suggest visiting its main attractions. Walk along the ancient Venetian streets or visit the oldest municipal theater in Europe, the cathedral of Hvar and its many museums, galleries and palaces. If you really feel like getting into the Hvar atmosphere and "pomalo" lifestyle, the best thing to do is to find a place on the main square, one of the most beautiful squares of the Mediterranean, and relax with a glass of wine and just enjoy the city vibe. Later in the evening, we will have a dinner together; a taste of ancient Hvar flavors mixed with innovative cuisine.
Suggested biking distance: 45 km – Easy option: 25 km – Long option: 60 km
Overnight stay: Hvar
Highlights: lavender fields, coastal rides, inland rural villages, the town of Hvar with its sights
Meals: breakfast, lunch and dinner
DAY 4
Korčula
Today we continue our island hopping adventure and leave for our fourth island, Korčula, an ancient Greek colony dating back to the 4th century BC. The island is famous for its white wines, Pošip, Rukatac, and Grk. It's also famous for having beautiful old towns, villages and dark pine forests that cover the island, whose quality wood was used for shipbuilding. We will be biking along sleepy stone villages, family vineyards, and gardens, and discover Korčula's hidden coves. We will stop by one of those families vineyards to taste culinary delights of traditional peasant lunch! Marinated eggplants, goat cheese, prosciutto, local olives, homemade gnocchi with pesto and almond sauce are just some of specialties served for today's lunch! The rest of the day is planned for exploring the medieval town of Korčula and to get into the sleepy, easy-going lifestyle!
Suggested biking distance: 45 km – Easy option: 36 km – Long option: 60 km
Overnight stay: Korčula
Highlights: ancient towns and villages, quiet roads, the city of Korčula and its sights
Meals: breakfast, lunch
DAY 5
Korčula
Today you will have an option of doing a loop ride on the island or just relax and do some sightseeing in the town of Korčula – a Venetian fortified town, irresistible to today's visitor, just as it used to impress medieval travel writers like Marco Polo, who began his life journey in this town. Today's experience ranges from riding along coastal roads leading to secluded beaches to biking through the vineyards surrounding small, picturesque towns. Did we mention an optional swim break at the beaches at the eastern part of the island? The afternoon is planned to be spent in the city of Korčula, followed by a visit to an authentic wine cellar, where we will taste some of the best wines of Korčula and some simple, but delicious Mediterranean snacks. After the visit, we will depart for our farewell dinner.
Suggested biking distance: 40 km – Easy option: 24 km – Long option: 85 km
Overnight stay: Korčula
Highlights: the city of Korčula, wine tasting, dinner, coastal rides, laid back villages and amazing views
Meals: breakfast, lunch, dinner
DAY 6
Peljesac Peninsula – Dubrovnik – Departure day!
On our way to Dubrovnik, you will have a chance to discover Pelješac Peninsula – home of the Croatian best-known red wines, Dingač and Postup, made from Plavac Mali wines, a close cousin to Californian Zinfandel. Pelješac will offer you great views; on the right you will see the islands of Mljet and Korčula and the mainland coastal line on your left. Today's ride takes us up the hills, along the coast and through huge vineyard areas. We will visit Ston, a salt producing village, built in the 14th century and famous for the longest (5,5km) fortified wall in Europe. Ston was a very important town in the period of the Dubrovnik Republic, being the most powerful and prosperous city in the 14th century. You can discover secrets of this powerful republic before the transfer to the pearl of the Adriatic – Dubrovnik, where your tour ends.
Suggested biking distance: 35 km – Easy option: 20 km – Long option: 60 km
Overnight stay: – Dubrovnik or Dubrovnik Airport
Highlights: Pelješac Peninsula and wine areas, Mali Ston, coastal ride to Dubrovnik
Meals: breakfast, lunch
NOTE: If you plan to fly out from Dubrovnik, please do not book flights departing before 5 p.m. as this is the time when we arrive to Dubrovnik or Dubrovnik airport.
This package includes:
Carefully designed trip for small groups (max. 10 guests per tour)
Accommodation in the small and charming boutique hotels (located in the historic town areas)
5 overnights in the most beautiful towns of the Dalmatian coast – Split, Hvar and Korčula
Local, professional and experienced tour guides
Exclusive guided visit of 1,700 years old Diocletian's Palace in Split
Daily van support and luggage transfers
Breakfasts, 5 lunches and 3 dinners at exclusive and authentic venues
Vino: local wines are a very important part of our culture. Wine tasting is included in dinners and is an obligatory part of our tour. You will also have a chance to meet one of the best wine producers and his family while tasting great white and red wines from his vineyard in Korčula
Daily refreshments, fruit, soft drinks and snacks
Great custom-built hybrid or road bikes and professional bike fitting
All entrance fees, organized special events, visits to unique sites and boat transfers as per itinerary
Daily maps (with detailed route instructions – written route navigation)
Additional daily cycling options
Pickup from your pre-tour hotel or airport before the tour starts
Travel planning assistance, pre-tour information, pre-post tour hotel/travel reservations or suggestions
Unique Croatian travel experience and immersion in local culture
Optional services:
e-bike bike hire (supplement)
airport transfers in Dubrovnik
Package does not include:
Tips or gratuities for tour leaders
Meals and drinks not mentioned above
Airfare, Travel Insurance
Gratuities, Personal expenses
Additional excursions and / or services not mentioned in the program
Personal expenses (internet, telephone, mini bar etc.)
Accommodation in Dubrovnik (on day 6)
Departure transfers from Dubrovnik
Tips and porterage services
Dalmatia Coast Bike Tour – Split to Dubrovnik – 6 Days
Available from April through October
Private Journey for 2 – 10 Persons Maximum
Prices are based on number of passengers traveling and dates of travel
Hotels are not guaranteed until confirmed