EXCLUSIVE Ultimate Island Hopping Adventure, September 2021
EXCLUSIVE Ultimate Island Hopping Adventure (30 – 38 people)
8 Day Deluxe Cruise and Inclusive Tour Package: September 18-25, 2021
Visiting: SPLIT – OMIŠ – BRAČ – HVAR – PAKLENI ISLANDS – KORČULA – TRSTENIK – MLJET – DUBROVNIK
---
Seeing Croatia for the first time is a life-changing experience. To visit time and again is to re-affirm life. Blessed with magnificent scenery and incredible history and enriched with folk traditions and delicious regional foods and wines, here is a region so divine that it has been named one of the best travel destinations in the world. Mediterranean, European, and Balkan influences have formed an ancient and distinctive culture throughout its pastoral countryside to its shimmering coastlines. Powerful mountain ranges have carved legacies in their midst while fairy tale castles and walled seaside villages stand as a testimony to its tumultuous past. Once the site of one of the bloodiest crossroads between Europe and Asia, it gained international recognition and independence in 1992 and today is a gorgeous and peaceful land that beckons passionate travelers from all over the globe. From its lush national parks teeming with flora and fauna and stunning waterfalls to its glistening chain of lavender and citrus scented islands in the sun-drenched Adriatic Sea, this is truly one of the most beautiful spots on Earth. A journey to Croatia is a lovely and indelible memory that lives with you forever.
1
Day 1 – September 18, Saturday: SPLIT (D)
Olives, indigenous aromatic plants, the brilliancy of white stone against the verdant vegetation and the towering mountain massif of Biokovo whose spurs reach all the way to the sea – yes, this is indeed an exceptional part of the country, and its beauty is made all the more enchanting by numerous historic events and monuments, and cultural manifestations. When, in the year 305, the Roman Emperor Diocletian, who ruled the entire world at that time, decided to build his leisure time abode - in which he intended to spend the rest of his life - he had no doubt as to exactly where build to it. In the very heart of Dalmatia, in the bay of Aspalathos (Split), well protected from the sea by the islands of the Split archipelago, and defended on its landward side by high mountains, Diocletian created a special point on the map of the Adriatic: the future city of Split.
Itinerary
Arrival to Split Airport and an organized transfer to Split Port
Check-in, welcome meet & greet cocktail reception on board (to be arranged with Katarina Line)
After settling, join our guided tour of Split with an English speaking guide through the old city center and the 1700-year-old Diocletian's palace (not possible for late arrivals)
After the tour, a three-course dinner at a local restaurant will follow (drinks to be paid on spot)
Return to the ship and overnight onboard in Split
Service
Private transfers from Split Airport to Split Port or a hotel in town upon arrival in a modern, air-conditioned vehicle
Private walking tour of Old Town Split
(2 English speaking guides) - entrance fees not included
Three-course dinner at a local restaurant in Split (drinks to be paid on spot)
2
Day 2 - September 19, Sunday SPLIT – OMIŠ (B, L, D)
Omis is a small town and harbor in Central Dalmatian located between Split and Makarska, situated in the mouth of the Cetina river and surrounded with massive gorges. In the past, Omis was notorious because of the pirates of Omis whose ships were a centuries-long symbol of retaliation, courage, and strength. The evidence of proud and turbulent Omis history can be found on every corner of the Omis Riviera. Omis churches and Omis fortresses are silent stone reminders of the power and the might of infamous Omis pirates. Today, Omis is one of the most beautiful places in Croatia's Adriatic Coast.
Itinerary
After breakfast, the adventure begins as we depart Split towards Omis. En route, we will make a swimming break before reaching this ancient town situated on the Cetina River surrounded by imposing cliffs and wild canyons.
Lunch will be served on board
Omis has a long, fascinating history intertwined with pirate legends. A picturesque town is surrounded by steep rocky mountain cliffs, where the river Cetina flows into the Adriatic Sea, ideal for a choice of activities: river rafting on the streams of the Cetina River, zip line adventure accompanied by instructors, morning hiking to Fortica fortress or a leisurely walk through the city with its many fortresses and stone churches scattered around the town's colorful local marketplace, small restaurants and coffee bars set amidst trendy shops and boutiques.
In the afternoon choose from one of these activities:

Ziplining in Omis (Transfer, Zipline adventure, Insurance, Guide) Approx duration: 3 hours
OR: Rafting on Cetina river (Transfer, Professional licensed instructor, Rafting equipment, Safety gear, Insurance) Approx duration: 3 hours
OR: City tour of Omiš accompanied by an English speaking guide, a visit to Mirabella Fortress (on your own) and time at leisure for shopping and coffee break

ON YOUR OWN: Hike to the fortress Fortica (the total hiking distance is 2340 meters), located at the mountain range called Omiška Dinara, the highest peak is 850 meters above the sea level, while the fortress is located at 303 meters above the sea level. Approx duration: 3 hours
Organized river boat transfer from Omiš Port to Kaštil Slanica restaurant for dinner
Upon arrival performance of the local cultural group of the Omiš dance and soparnik served with welcome drinks, followed by three-course dinner (drinks to be paid on spot)
After dinner return to Omiš by bus for an overnight onboard
Service
Afternoon activities for all passengers to choose:

Afternoon zip lining in Omis (Transfer, Zipline adventure, Insurance, Guide)
OR: Afternoon rafting on Cetina river (Transfer, Professional licensed instructor, Rafting equipment, Safety gear, Insurance)
OR: City tour of Omiš accompanied by an English speaking guide, a visit to Mirabella Fortress and time at leisure for shopping and coffee break (on your own)

Organized river boat transfer from Omiš Port to Kaštil Slanica restaurant for dinner followed by a bus transfer to Omiš
Three-course meal dinner in Kaštil Slanica (drinks to be paid on spot)
Upon arrival, the traditional performance of the local cultural group of the "Omiš dance" and soparnik served with welcome drinks.
3
Day 3 - September 20, Monday: OMIŠ – BRAČ (B,L)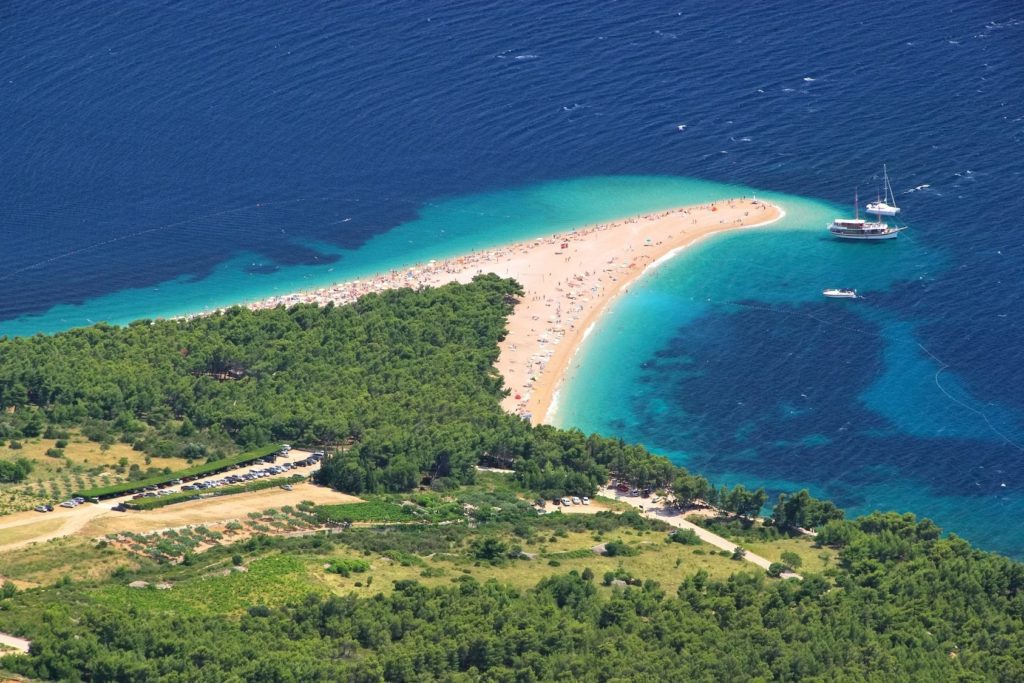 Itinerary
We start our day with morning departure towards island Brač and the town Bol - home to the most famous beach in Croatia. Travelers will enjoy a half-day in Bol, when they are free to discover this Dalmatian town, its beaches, restaurants and cafes at leisure after lunch served onboard.
Guests are free to enjoy their evening and dinner at leisure
4
Day 4 - September 21, Tuesday: BRAČ - HVAR (B, L, T)
Pakleni islands archipelago, are a labyrinth of several smaller islands that offer perfect bays for swimming and snorkeling. Exploring the Paklinski Islands one cove at a time will make you believe that surprises are waiting around every corner, both above and beneath the surface! Every cove is a microcosm, a wonder of nature, a story in itself. The Paklinski islands group are situated in front of 
Hvar town 
and they tend to use like a large town park and town port breakwater. Pakleni islands group consists of 
Jerolim
, 
Pokonji dol
, 
Galešnik
, 
Marinkovac
, 
Planikovac
, 
Borovac
, 
Stambedar
, 
Dobri otok
, 
Gojca
, 
Vlaka
, 
Borovac
, 
Parzanj
, 
Travna
, 
Mali Vodnjak
,
Veli Vodnjak 
islets, the biggest one 
Saint Klement 
island and few cliffs.
Favorite spots 
on Pakleni islands are 
Jerolim island 
– nudist island, 
Stipanska bay 
– open-air party spot situated on Marinkovac islet, 
Isthmus Ždrilca 
– with restaurants and natural covered bay, 
Vlaka bay 
– with a restaurant on 
Saint Klement 
island,
Vinogradišće bay 
- a south bay with sandy beach, cocktails and nice restaurants, gallery– a favorite spot for yachtmen on Saint Klement, 
Palmižana bay 
with ACI marina with catering facilities – is situated on the opposite side of Vinogradisce bay on Saint Klement island. Pakleni island with its many coves is the perfect place for famous people who want to hide from publicity and keep own privacy. Island group is covered with low vegetation, small bushes, and alepp pine. There you cannot find many pebble or sandy 
beaches 
but the interesting spot has beach chase, beach bean bag or other kinds of beach chairs. Entire 
Vinogradišće bay 
has a sandy bottom and sea color is beautiful. In Vinogradisce you could enjoy in narrow, not a too long sandy beach with beach chairs. 50 meters distance from the sandy beach there is a small pebble beach. Behind restaurants, you can find many shady trails that lead in different directions. Land and facility owners take care that everything remains in harmony with nature (and they expect from tourists the same). The same philosophy you will notice on the other spots on Paklinski islands – Marinkovac with isthmus Zdrilca (pebble beach), Vlaka bay and Soline (sandy beach). The lavender island that Conde Nast's signature travel magazine called "one of the "best 10 islands in the world". A vacation on the lavender island of Hvar means extraordinary experiences every day - from visiting an ancient olive grove and learning about what Homer called "liquid gold", taking a Jeep safari to discover hidden inland Hvar to exploring a castle, visiting the oldest theatre in Europe or tasting spectacular wine and local delicacies at an award-winning vineyard.
Itinerary
This morning we head towards the island of Hvar, the longest and sunniest Adriatic island, a favorite destination for jet setters from all around the world.
Lunch stop is followed by a swim stop at the Pakleni Islands.
Arrival to Hvar in the afternoon.
Town offers many cultural and historical sites - Renaissance cathedral, the oldest communal theater in Europe founded in 1612, Franciscan monastery, the Benedictine convent famous for their lace listed on the UNESCO World Heritage List, Španjola Fortress towering above the town
Hvar walking city tour followed by a walk up to Španjola Fortress where you will enjoy a private get together with music, wine sampling, and snacks
Dinner on your own in one of many restaurants and bars and nightclubs open late all night long...
Return to the Adventures Croatia ship for an overnight in Hvar
Service
Hvar walking city tour (entrance fees not included) followed by a walk up to the Španjola Fortress for a private get together with music, wine sampling and snacks
Wine house Vujnovich from Sučuraj on Hvar island –wine sampling Ivan Dolac & Plame red wines andParč white wine and local Prošek paired with 2 local sorts of cheese, prosciutto, salted & marinated anchovies and shrimps served on slices of bruschetta, offered with figs (everything local and home-made). Private wine sampling enriched with the backdrop sounds of a local guitar musician.
5
Day 5 - September 22, Wednesday: HVAR - KORČULA
Korčula 
was first mentioned as early as the 10th c. in works of Byzantine historians under the name "Stone Town". It flourished under the Venetian government and later on it spread around the town walls. But in spite of all that, it is still the most famous as the birthplace of Marco Polo who was probably born here in 1254, and reminders of him can be seen all around the town, including the extremely interesting Marco Polo Museum which is something you definitively don`t want to miss when visiting this beautiful Dalmatian town. Today it`s a town where you can vividly feel the Mediterranean spirit of people who live and work in this mixture of Gothic, Renaissance and Baroque architecture.
Itinerary
Early morning departure from Hvar towardsKorčula, the birthplace of the famous explorer and adventurer Marco Polo. Surrounded by medieval walls, Korčula resembles a miniature Dubrovnik when approaching from the sea. The town has more legends, tales, and monuments than you can find anywhere else. Today, Korčula is the only place in the world where the Spanish medieval Knight's game – Moreška – is still performed.
Stop for lunch in one of the secluded bays en route
Upon arrival to Korčula enjoy exploring the Old Town Korčula with streets built in the shape of a fishbone on your own
In the evening meeting will follow and gathering at the summer stage where you shall enjoy traditional Moreška Sword Dance performance
The performance will be followed by dinner in a local restaurant
Overnight in Korčula port route
Service
Private Moreška Sword Dance performance on the summer stage with a welcome drink (sparkling champagne)
Three-course dinner at a local restaurant in Korčula (drinks not included)
6
Day 6 - September 23, Thursday: KORČULA –TRSTENIK (B,L,D)
Trstenik is a village situated on the southern coast of the Pelješac peninsula. It is connected to the Croatian mainland by the coastal road via Ston. The village is located in a deep, south-facing bay under the tall Pelješac hills, with a large pebble beach at the base of the bay. The bay is an anchoring spot as it has a well-protected pier, though it is not recommended in times of southern wind Jugo. Trstenik is about 90 km away from Dubrovnik and due to it's unique gorgeous and unspoiled location, it is considered as one of the most beautiful villages of the Croatian coast. The sea here is crystal clear and is rich in underwater life. Numerous small bays and beaches that can only be reached by boat are in the near vicinity of Trstenik. History of Trstenik: Trstenik was in the 19th and beginning of the 20th century important harbor for transportation of grapes from Peljesac's isolated southern vineyards to Italy and beyond. At that times the only way to transport grapes at harvest from southern slopes of Pelješac was to load them on donkeys and carry them over the mountain to the wineries in Potomje (a village on Pelješac that has well-known winery), or along the steep southern ridges to Trstenik to be loaded on boats and transported by sea to Italy or Split and Dubrovnik. Pelješac Wines: Trstenik is a home of Grgich Winery that was founded by Napa Valley winemaker Mike Grgich, a Croatian emigree, in 1958. Grgich, who earned international fame as the winemaker at Calistoga's Chateau Montelena, founded his own Grgich Hills winery in Rutherford in 1971. Red wine Plavac Mali is the famous produce of this winery.
Itinerary
Today, we continue our cruise towards the little seaside village of Trstenik on the Pelješac peninsula, well known for its excellent wine. Before lunch a short stop at one of the Elaphiti Islands and afternoon arrival to Trstenik.
Upon arrival disembark and departure for a small village called Ston on the mainland, a peaceful fishermen's village and the starting point to an Exclusive Adventures Croatia Pelješac tour – Ston once fortified small village famous for its oysters is the first stop. You shall be transferred to a local winery and taste the best selection of wine, olive oil with snacks
Grape and wine production in Ponikve, on the Pelješac peninsula, has been a Milos family tradition for generations. They base their production on the autochthonous grape variety of Plavac mali. The family owns approx 15 hectares of vineyards on the finest locations on Pelješac; on the slippery slopes of the Prapratno cove next to Ponikve village. Vineyards have been planted on sandy soil formed on the dolomite rocks. Handcrafted vineyards and ecological production show the effort they put into every detail. In Ponikve you will visit their own wine-cellar for fermentation, processing, bottling, and the aging of wine. The selection of wine depends on the position and the preparation of the vineyard, the particular year, the way and time of vintage, and the technology in the cellar. This means that each type of wine requires a different winemaking procedure. They produce different types of wines: dry, semi-dry, half- sweet, and naturally sweet (dessert) wines.
A short drive away will take you to an oyster farm to learn more about oysters and tasting this delicious treat.
Upon your transfer back to the ship one final stop is waiting for you at a famed wine cellar of Mike Grgich. Famed for his Grgich Hills in Napa, he resorted back to his Pelješac roots in the late 1990s, opening his Croatian cellar. Here, taste the wines created by the man who sensed a familial relationship between Plavac Mali and Zinfandel, which led to the discovery of their common origin from Crljenak Kaštelanski grapes!
Dinner onboard the ship in Trstenik.
Captain's Dinner on board, and passenger talent night (Please be prepared! Your 'talent' could be singing, dancing, comedy, poetry reading, lip-syncing, etc. Mandatory participation for maximum fun!
Overnight in Trstenik
Service
Entrance tickets to the National Park Mljet (a boat ride to the St. Mary isle in the Great Lake included)
Exclusive Adventures Croatia Pelješac Tour – private tour of Pelješac peninsula in off-road Renault 4 vehicles with visits to family Miloš winery with wine and olive oil tasting and oyster harvesting with a local fisherman
7
Day 7 – September 24, Friday: TRSTENIK – DUBROVNIK (B,L,D)
Dubrovnik is a medieval city on the Croatian side of the Adriatic coastline and treasure trove of cultural, historical monuments that were created throughout its thousand-year existence. In the past, it was a City-Republic, and alongside Venice one of the most famous cultural-economic centers on the Mediterranean. In more recent times, it has become the center of modern cultural and tourist events: a city of summer festivals – an international parade of top musical and theatrical achievements, a city of museums and galleries. These values have turned Dubrovnik into a place that offers a rich selection of various experiences and excitement, but also a complete holiday in a quiet and calming, mild Mediterranean ambiance, and wonderful seaside landscapes.
Itinerary
Breakfast on board and sail towards Dubrovnik
Lunch served on board during the sail
Upon arrival to Dubrovnik, private bus transfer to the old town for the guided walking tour of this magical town accompanied by an English speaking guide
Discover Dubrovnik and take in all the main sights. Explore the architecture and history of this famous city accompanied by your experienced guide, the story of Dubrovnik's golden age will unfold before your eyes.
The route takes you around the Old Town via Onofrio's Fountain and up Prijeko Street to the Old Port - the key to Dubrovnik's trading and maritime success.
Ships from Dubrovnik were renowned throughout the Mediterranean and galleons from the Republic could be found in navies across Europe and beyond. These ships were built and loaded in the legendary Arsenal, which is another stop on the tour. Once in the Old Port, your guide will relate the stories of the famous Quarantine and the nearby fortresses of St. Luke and St. John as well as legends about the Church of St Blaise, the Cathedral, the Rector's Palace, Sponza Palace, and Orlando's Column.
Take the Dubrovnik Cable Car and reach a unique viewpoint above the city Glide through the air on a scenic adventure. The Cable Car ride offers breathtaking views of the Old Town of Dubrovnik, stunning coastal sights and magnificent sunsets. Once you reach the top, take your time and relax and enjoy the unique views of Dubrovnik and the Adriatic.
Return to the Old Town for a snack and wine tasting at a local wine bar. Dinner on your own.Return to the port and your ship (on your own) and an overnight in Dubrovnik
Service
Private one- way transfer from Gruž Port to DubrovnikOld Town in a modern, air-conditioned vehicle (parking fees included)
English speaking guide for a private walking tour of Old Town Dubrovnik (Entrance fees to Dubrovnik Walls & Dubrovnik Cable Car included / wireless tour guide system included)
Snack and wine tasting at a local wine bar in Dubrovnik
8
Day 8 - September 25, Saturday: DUBROVNIK (B)
Itinerary
End of the Adventures Croatia Island Hopper and disembark the ship
Private transfers from Dubrovnik Port to Dubrovnik Airport or your hotel in Dubrovnik
Service
Private transfer from Dubrovnik to Dubrovnik Airport or Dubrovnik based hotel upon disembarkation
* Legend: B - breakfast; L - lunch; D - dinner; T - tasting
Ship Information
BUILT: 2019
LENGTH: 54m
WIDTH: 8,6m
ECONOMIC SPEED: 10nm
CABINS: 19
MAX PERSONS: 38
WiFi: YES
Ship Features
Sundeck with deck chairs, sunbeds, jacuzzi
Small swimming pool
Salon restaurant
Bar
Large screen LCD TV
Outdoor lounge with tables and comfortable sofas
Swimming platform
Air-condition en-suite cabins
Cabin Features
AC: YES
TOILETRIES: YES
SAFE: YES
HAIR DRYER: YES
BALCONIES: YES
TV: YES
Upper deck cabins: 11 double/twin cabins with balconies
Under deck:8 double/twin cabins
---
Ultimate Island Hopping Adventure (30 – 38 people), September 18 - 25, 2021, package includes:
All English-Speaking Guides and Drivers
Private transfers from Split Airport to Split Port or a hotel in town upon arrival in a modern, air-conditioned vehicle
English speaking guide for a private walking tour of Old Town Split (Entrance fees not included / wireless tour guide system included)
Afternoon activities in Omiš for all passengers to choose:

Afternoon zip lining in Omis (Transfer, Zipline adventure, Insurance, Guide) OR
Afternoon rafting on Cetina river (Transfer, Professional licensed instructor, Rafting equipment, Safety gear, Insurance) OR
City tour of Omiš accompanied by an English-speaking guide, a visit to Mirabella Fortress and time at leisure for shopping and coffee break (on your own)

Organized river boat transfer from Omiš Port to Kaštil Slanica restaurant for dinner followed by a bus transfer to Omiš
Three-course meal dinner in Kaštil Slanica (drinks to be paid on spot)
Upon arrival, the traditional performance of the local cultural group of the "Omiš dance" and soparnik served with welcome drinks.
Hvar walking city tour (Entrance fees to Španjola Fortress included / wireless tour guide system included) followed by a walk up to the Španjola Fortress for a private get together with music, wine sampling, and snacks
Wine house Vujnovich from Sučuraj on Hvar island – wine sampling Ivan Dolac & Plame red wines and Parč white wine and local Prošek paired with 2 local sorts of cheese, prosciutto, salted & marinated anchovies and shrimps served on slices of bruschetta, offered with figs (everything local and home-made).
Private wine sampling enriched with the backdrop sounds of a local guitar musician.
Private Moreška Sword Dance performance on the summer stage with a welcome drink (sparkling champagne)
Three-course dinner at a local restaurant in Korčula (drinks not included)
Exclusive Adventures Croatia Pelješac Tour – a private tour of Pelješac peninsula in off-road Renault 4 vehicles with visits to family Miloš winery (wine and olive oil tasting included), oyster harvesting with a local fisherman and wine tasting at Grgich Winery
Private one- way transfer from Gruž Port to Dubrovnik Old Town in a modern, air-conditioned vehicle (parking fees included)
English speaking guide for a private walking tour of Old Town Dubrovnik (Entrance fees to Dubrovnik Walls & DubrovnikCable Car included / wireless tour guide system included)
Snack and wine tasting at a local wine bar in Dubrovnik
Private transfer from Dubrovnik to Dubrovnik Airport or Dubrovnik based hotel upon disembarkation
The program does not include:
Meals and drinks not mentioned above
Airfare, Travel Insurance
Additional excursions and / or services not mentioned in the program
Personal expenses (internet, telephone, mini bar etc.)
Tips and porterage services
Dates and Details:
Prices are based on number of passengers traveling and dates of travel Hotels are not guaranteed until confirmed