Adventures Croatia Familiarity Trip – October 2020
8 Day EXCLUSIVE Adventures Croatia Familiarity Trip
Visiting: ZAGREB – PLITVICE LAKES NATIONAL PARK – ZADAR – SIBENIK – TROGIR – SPLIT – HVAR – DUBROVNIK
October 24 – October 31, 2020 – for Qualified Agents – Become a Verified Agent! Limited spaces available
---
We want you to fall in love with Croatia!
Seeing Croatia for the first time is a life-changing experience. To visit time and again is to re-affirm life. Blessed with magnificent scenery and incredible history and enriched with folk traditions and delicious regional foods and wines, here is a region so divine that it has been named one of the best travel destinations in the world. Mediterranean, European, and Balkan influences have formed an ancient and distinctive culture throughout its pastoral countryside to its shimmering coastlines. Powerful mountain ranges have carved legacies in their midst while fairy tale castles and walled seaside villages stand as a testimony to its tumultuous past. Once the site of one of the bloodiest crossroads between Europe and Asia, it gained international recognition and independence in 1992 and today is a gorgeous and peaceful land that beckons passionate travelers from all over the globe. From its lush national parks teeming with flora and fauna and stunning waterfalls to its glistening chain of lavender and citrus scented islands in the sun-drenched Adriatic Sea, this is truly one of the most beautiful spots on Earth. A journey to Croatia is a lovely and indelible memory that lives with you forever.
Travel with Adventures Croatia
We're here to make sure you learn everything there is to love about Croatia so you'll be able to share your expertise with your clients.
Join us for this exclusive Familiarity trip, and experience first hand how we take good care of your clients, and WOW them every step of the way.
1
Day 1 – ZAGREB
Unveil the secrets behind the old facades, discover the hidden courtyards and revive the stories from the past. We'll give you a completely new perspective of Zagreb City. Walking tour of Zagreb starts with the main square Ban Jelačić, Cathedral, Tkalčićeva street, the Stone Gate, Upper Town, historic center of the city, St. Mark's Church with the famed multi-colored roof.  Using funicular, close to the Lotrščak Tower, you can go down to the Lower town to see a part of the famous Ilica street, the Croatian National Theatre, University and so much more. The Cathedral of the Assumption dominates Kaptol, its glowing towers you see off in the distance is the most immediately recognizable and commanding feature in town. It is an ornate and impressive wonder of neo-Gothic artistry. The cathedral was founded in 1093, heavily damaged in 1242 after various sieges by the Tartars, then again in 1625 after wave of fires. But the bad luck goes on, in 1880 it was seriously damaged during an earthquake. In 1990 exterior renovations set in motion to battle against the wearing effects of time. Just up from the main square (Trg Bana J. Jelacica) by the stairs, you will find the colorful Dolac market. To the back of the market square, there are the touristy stalls that sell souvenirs. But actually the market itself is for the locals to buy fresh produce. Downstairs you will find the meat etc. sections.
St. Mark's Church - In the highest area of ​​historic Zagreb this church is characterized by its roof with red, blue and white representing the coat of arms of Zagreb. The building was constructed by Venetian masters, even the baroque bell tower is an addition of the seventeenth century. Inside there are Gothic vaults and a choir designed by Ivan Mestrovic. The square where it is situated is a symbol of political life because here are the locations of the Sabor (Parliament), neoclassical building, and the Croatian government. The Upper Town, which is the medieval core of the city, developed as two separate (and often warring) towns – Kaptol, the seat of the Bishop (where the imposing Cathedral now stands), and Gradec, the free town where tradesmen and artisans lived (proclaimed by King Bela of Hungary in the 12th century) merged in the 1770s to form the northern section of historic Zagreb. Following this, the city expanded south of today's Trg Bana Josipa Jelacica (Jelacic Square) to the railway station and the Sava River. Old Town Gate, at the top of Radićeva street (Upper Town). now a shrine to Virgin Mary – the "Kamenita vrata" where you can light a candle or place a vow and, as the locals believe, your wish will be granted. Please be silent and respectful, even if just passing through the Gate. The portrait of Mary is said to be sacred because it is the only thing that survived the great fire in Zagreb in 1731. Near the Old Town Gate is the sculpture of St. George having slain the dragon. The other statue, him fighting the dragon, is located on the Marshal Tito's Square near the Croatian National Theatre.
Strossmayer šetalište. (eng. Strossmayer's walkway) In the summer, it is an outdoor scene for painters, musicians and other artists offering food, drinks, performances, and concerts. Popular meeting place for all ages, with a great view of the Zrinjevac Park, (just southeast of the main square), the park of the Academy (connecting the Zrinjevac and Tomislav parks), King Tomislav square, (south of Zrinjevac, just outside the main Train Station), Botanical Gardens, (south of the K. Tomislav Square, near the Hotel Esplanade), Mažuranić square, Square of Maršal Tito, (the green square surrounding the National Theatre).
Itinerary
Arrival to Zagreb and transfer to your hotel arranged on your own either from Zagreb Airport or some other location in the city
Meeting with your guide and tour leader for a private walking city tour of Zagreb followed by a one – way transfer from your hotel to the Old Town.
Start with exploring the capital's historic center, Gornji Grad ("Upper Town"), to see the top tourist attractions, find the most Instagram-worthy spots and walk on picturesque cobblestone streets.
St. Mark's Church is one of Zagreb's most emblematic buildings. Not surprising as just a glance at the gorgeous tiled roof can take your breath away.
Dolac Market is a farmer's market located in Gornji Grad, just a few meters away from the main city square, Ban Jelačić Square. Here you can find anything from fresh fruit and vegetables to flowers and souvenirs, like Licitars.
A Short walk from the Zagreb cathedral, in a magnificent 200 yr. old. brick faulted cellar, the first Croatian wine shop (Vinoteka) was born 30 years ago which gave birth to a renewed Croatian wine scene.
The pioneers of this enological project have created a true wine temple to be enjoyed by wine enthusiasts and lovers from all over the world.
The fairytale street of Tkalčićeva, which snakes up from focal Jelačić Trg, was once the flowing stream of Medveščak.
The little side streets leading off it, Splavnica (from splav, raft) and Krvavi most ('Bloody Bridge'), link to its watery origins and colorful past as the flashpoint in local disputes over the centuries. For two decades, this atmospheric thoroughfare has provided Zagreb with its prime bar crawl, a constant current of revelers moving from spot to spot.
Time at leisure to explore the city on your own, enjoy a drink or dinner in one of the many restaurants and return to the hotel (on your own)
An overnight in Zagreb
2
Day 2 – ZAGREB – PLITVICE LAKES NATIONAL PARK
Plitvice Lakes National Park is Croatia's best known national park and the only one of eight that is listed on the UNESCO List of World Heritage sites. The main attractions of this park, are the 16 small lakes joined by waterfalls created by the sedimentation of travertine, a special type of limestone. This national park encompasses the source of the river Korana, located in the area surrounded by dense forests of beech, fir, and spruce. There are also several caves in the park, as well as springs and flowering meadows. The brown bear stands out as one of many protected animal species.
The popularity of this park is also boosted by the special means of transport used to ferry visitors around: the panoramic electric trains and the noiseless electro-powered boats. By a network of paths, visitors can get around and access the numerous waterfalls and the rocky lake shores easily.
Itinerary
Breakfast at the hotel and check out
Meeting with your tour leader & driver for a private transfer from Zagreb to Plitvice.
Enjoy the guided visit to the National Park.
The oldest (since 1949) and largest (294,82 km2) National Park in Croatia.
The only National Park in Croatia on the UNESCO's list of protected natural and cultural heritage (for almost 30 years). The riches of sixteen wonderful interlinked azure-green colored crystalline lakes. The constant formation of the barrier modeled the appearance of the lakes today and is the main feature of the National park. The water of Plitvice Lakes is prime category drinking water (a rarity in Croatia).
Dinner served at a local Plitvice Lakes restaurant. A unique place with an ambiance of a traditional house in Lika, in which authentic dishes are prepared. In the middle of the restaurant, there is an open-hearth fireplace, where lamb is roasted on a spit, and where other food specialties from Lika are prepared "under iron cover".
Ham, "basa" cottage cheese, lamb under iron cover, grilled meats, baked potatoes, trout, sour milk, the Lika fritters, and the Lika strudels made of cheese, apple or plum, are just some of the specialties of this renowned restaurant.
Final drive to your hotel, time at leisure and overnight in Plitvice lakes area
3
Day 3 – PLITVICE LAKES NATIONAL PARK – ZADAR
Zadar is a treasure trove of archaeological treasures and monuments to the ancient, medieval and Renaissance periods. This is visible by a number of sacral and architectural monuments – the church of Sv. Donat [St. Donatus] where every summer the sounds of Zadar's musical evenings echo, the Roman Forum near the main square, Kalelarga - the longest and widest street, the Cathedral of Sv. Stošije [St. Anastasia], an Archaeological Museum with its exceptional treasures and many other monuments of cultural and historical heritage (town gate, Arsenal, churches, museums...).
In a city with the most beautiful sunset, in a maritime archipelago facing a multitude of islands and islets, which protect the city from the strong winds, enjoy the symphony of the Sea Organ and magical urban light installation Pozdrav suncu [Greeting the Sun] near the new harbor for cruise ships.
Itinerary
Breakfast at the hotel and check out
Meeting with your guide/tour leader & driver for a private transfer from Plitvice Lakes National Park to Zadar
Head for a private walking tour of Old Town Zadar. One of the best Zadar attractions is the sea organ.
The magic that is the Sea Organ, known as the Morske orgulje in Croatian is mesmerizing. Okay, it's not magic, the music actually comes from the waves. The waves push air through 35 underwater pipes stretching across 70 meters, and the sound pops-up all along the promenade, known as the Riva.
Head to the sea organ at least half-hour before the sun is scheduled to vanish into the horizon to claim your front-row seat or even better come to Zadar in Autumn and Spring when there are fewer tourists.
And, we recommend you get an ice-cream from our favorite shop in Zadar, it's the best ice cream in town.
Turn to your right, and just next door is a solar-powered work of art that explodes with an array of brightly colored lights – The Greeting to the Sun. Tap dance, tip-toe or waltz across its glass surface as it changes hues.
The Greeting to the Sun consists of three hundred multi-layer glass plates in the shape of a circle 22 meters in diameter. It is conceived as a spatial installation in the form of an amphitheater surrounded by stone blocks with a presentation of all Solar System planets and their orbits.
Return to the hotel for dinner, time at leisure and overnight in Zadar
4
Day 4 – ZADAR – ŠIBENIK – TROGIR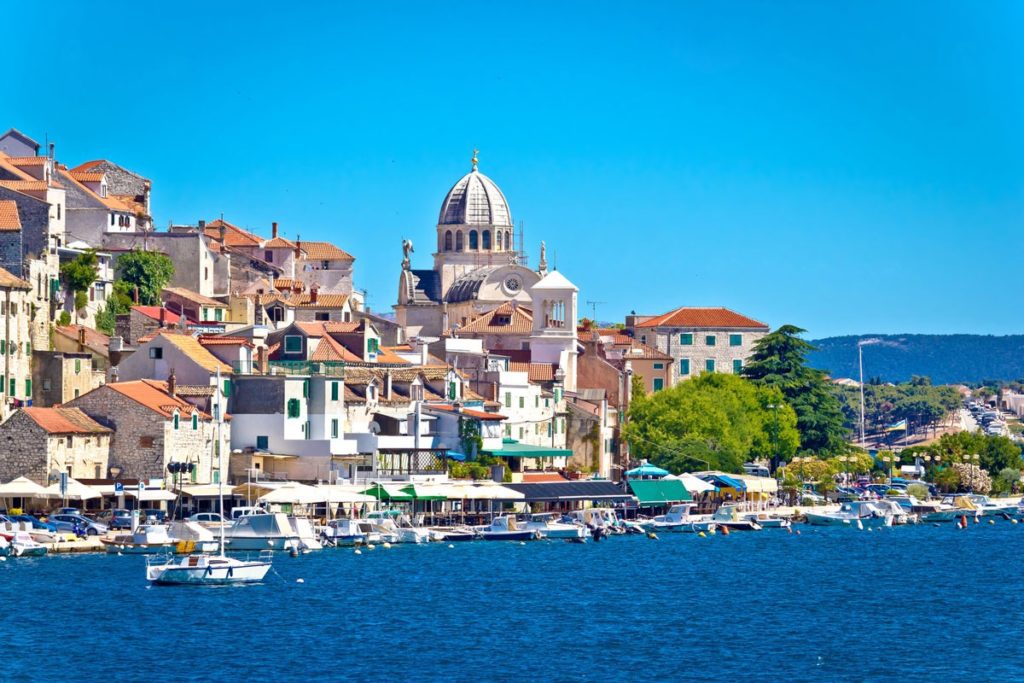 A coastal city that has endured nearly a millennium of scorching temperatures, sustaining a few wars, being beaten by the waves and whipped by relentless winds, Šibenik remains as vibrant as ever. Šibenik consists of stone buildings, stone stairways, rock cliffs, cobbled streets and stone arches. It is built on rocks and constructed with rocks. Šibenik is a city of sun, sea, and stone, a unique combination of characteristics that make this a city unlike any other in Croatia.
Additionally, this proud city is the only one on the Croatian coast that was built by Croats - Split and Dubrovnik, for example, were founded by other cultures. As the third-largest city in Dalmatia, Šibenik makes for a strongly recommended destination on this spectacular stretch of the Adriatic coastline. This city is filled with amazing historic sites, beautiful seaside hang-outs, and quaint alleys and squares - just what you may expect from a medieval coastal city in Croatia. City Hall - A strikingly harmonious Renaissance building situated on the medieval Square of the Republic of Croatia in the very heart of the city, the City Hall of Šibenik was constructed between 1533 and 1546. Its beautiful façade is made up of columns and arches, a balustrade and a balcony. The ground floor is home to a wonderful local restaurant, the outside terrace of which provides an extraordinary view of the Cathedral of St. James. Although the City Hall was entirely leveled during an allied air raid in 1943, it was meticulously rebuilt and now looks exactly like it did before the Second World War. Stone Streets and Quaint Squares - A fun thing to do in Šibenik is walking around aimlessly. Its medieval heart is completely car-free - the streets and alleys are simply too narrow for car traffic - and allows people to explore, discover and wander at their leisure. The historic city center is made up of a few different areas, known as Grad, Dolac and Gorica, which all neighbor one another. These areas are chock-full with historic sites, ranging from ancient churches to palaces and mansions to townhouses. Everything, of course, is made from stone. A maze of paved and cobbled streets connects all these attractions; sometimes the streets pass underneath a beautiful arch or even through a tunnel. Because the city was built on a rocky coastal area, there are some elevation changes as well, which are conquered by - you guessed it - stone stairways.
Four Fortresses - Šibenik has always had a strategic position in the Adriatic Sea. This military advantage made it a much-desired city by the larger Mediterranean powers. The rulers of the city anticipated that and erected a number of mighty fortresses, built fortified city walls and constructed commanding towers. Nowadays, the fortresses are the best-preserved remains of this once-mighty fortification system. There are four fortresses in the city of Šibenik - the Fortresses of St. Nicholas, St. John and St. Michael, and the Fortress Šubićevac - all of which were built between the 15th and 17th centuries. While they are all definitely worth visiting, the Fortress of St. Michael is particularly interesting because it houses a concert and theater venue at its top. Overlooking Šibenik and the islands in the Adriatic Sea, it is one of the most scenic places to attend a performance in Croatia.
Cathedral of St. James - The number one attraction in Šibenik is the Cathedral of St. James. A stunning and stylish building, this magnificent cathedral was built in the 15th and 16th centuries and can be said to be one of the most significant monumental cathedrals in Europe. It wouldn't be Šibenik if its cathedral weren't built entirely from stone - in fact, it is the only cathedral in all of Europe that has been constructed with only stone. Additionally, it was also the very first structure in Europe to be constructed with inter-grooved stones. And that's not all. The Cathedral of St. James is also the only European building of which the interior shape corresponds entirely with its exterior features. It would by no means be a stretch to state that the Cathedral of St. James can be considered to be the most important Renaissance building in Croatia. It is truly an absolutely extraordinary building, a vast stone monument, that is one of the top sights on the entire Dalmatian coast. UNESCO recognized the cultural, architectural and historical significance of this cathedral when it declared it World Heritage in 2000.
Trogir, a harmonious stone town on a small island that is connected to the mainland and the island of Čiovo by bridges. The old town, under UNESCO protection, is a treasure trove for lovers of art, Renaissance and Baroque buildings, Romanesque churches... It is called the town-museum which is visible in the famous portal of Trogir cathedral by the craftsman Radovan in 1240, a Renaissance city lodge, the thousand-year-old Monastery of Sv. Nikola [St. Nicholas] which has the ancient famous relief of Kairos preserved in it from the 4th century BC. Cathedral of St Lawrence - During structural repairs to the foundations of the bell tower in 1903, an altar consecrated to Hera was found, which might well warrant the assumption that there was once, on the site of today's cathedral, a shrine from at least the Greek and Roman period. The new foundations of St Lawrence' Cathedral were blessed at the beginning of the 13th century after the old cathedral had been ruined in the Venetian destruction of the city in 1171. Radovan's portal - A genuine trademark of Trogir sculpting is Master Radovan, the most important sculptor of Croatian medieval art. He signed his name on the main portal in an inscription that runs under the lunette and reliefs of the Annunciation at the side, where he is celebrated as "the best of all in this art" (cunctis hac arte preclarum). In the center of the upper zone of the portal is a lunette in which Radovan managed to link into a united composition the scenes of Nativity, the Journey of the Magi and the Adoration of the Shepherds. The Benedictine Convent of St. Nicholas - The church alongside the convent (founded in 1066) was put up on the side of the pre-Romanesque church of St Domnius. The interior was given a radical Baroque treatment in the mid -18th ct. (interesting Baroque stuccowork and altars). In the precious collection of artworks, the famed Kairos is on show, a relief with the figure of the youngest son of Zeus, the god of the lucky moment (4th or 3 rd. ct. BC after on original of Lysippus).
The main city square - The program of designing the appearance of the main city square in Trogir, at the site of the Roman forum, started in 1300 with the construction of the commune's loggia and the council chamber. The square acquired its final shape in a number of operations in the mid-15th century, at a time when the city really was renovated. The large Cipiko palace - Father and son, Petar and Koriolan Cipiko, managed, clearly according to a certain family program and with strategic marriages, to occupy the whole western side of the main square with their two palaces – opposite the council chamber, the cathedral and the other public buildings.
The southern portal, with medallions of angels bearing Koriolan's motto Nosce te Ipsum (Know thyself), is the work of Niccolo, around 1470. The northern portal, opposite the portal of the cathedral is the work of Ivan Duknović, fitted into the place, however, with Aleši three-mullion windows in the mid-17th century after the palace complex had been divided between two brothers and restored after the devastation by the Venetian militia that used the palaces as a barracks during the Cyprus War.
Itinerary
Breakfast at the hotel and check out
Meeting with your tour leader & driver for a private transfer from Zadar to Trogir with an en-route stop in Šibenik for a guided walking tour and lunch.
Upon arrival to Trogir, a short tour of the city.
Just behind the Split airport, Trogir offers an intricate medieval architecture, Dalmatian waterside dining, and a busy market, from the mainland across two interlinked islands.
Occupying the middle one of Trogir itself, the entire historic center is a UNESCO World Heritage site, a testament to its heavyweight cultural importance.
Two yacht marinas accommodate higher-spending visitors while a younger crowd hits the seafront nightspots of adjoining Čiovo island.
Time at leisure for dinner on your own and overnight in Trogir.
5
Day 5 – TROGIR – SPLIT – TROGIR
Olives, indigenous aromatic plants, the brilliancy of white stone against the verdant vegetation and the towering mountain massif of Biokovo whose spurs reach all the way to the sea – yes, this is indeed an exceptional part of the country, and its beauty is made all the more enchanting by numerous historic events and monuments, and cultural manifestations. When, in the year 305, the Roman Emperor Diocletian, who ruled the entire world at that time, decided to build his leisure time abode - in which he intended to spend the rest of his life - he had no doubt as to exactly where build to it. In the very heart of Dalmatia, in the bay of Aspalathos (Split), well protected from the sea by the islands of the Split archipelago, and defended on its landward side by high mountains, Diocletian created a special point on the map of the Adriatic: the future city of Split.
There's no doubt Diocletian's Palace is the top must-see attraction in Croatia's second-biggest city – Split. This UNESCO protected World Heritage Site is actually the heart of the whole city – almost two thousand years old, the enormous palace exists today as a "living monument" – meaning it's dotted with quaint shops, galleries, cafes, restaurants, and people actually live and work within its old walls. And that's what makes it really special – it's an ancient Roman palace absolutely integrated into the everyday life and doings of Split and its people.
The Riva, a marble-white and palm-lined connection of Split and the Adriatic is everyone's favorite spot for socializing, coffee-drinking or just idle sitting on one of the comfy benches which face the sea. Riva is full of life throughout the day, especially during the summer, and you'll always find people strolling along or sitting in one of the cafes. So, if you want to get a feeling of the local every day "buzz" be sure to grab your spot and you'll soon experience first-hand how important and irresistible is the coffee culture in Croatia. And finally, maybe not the most important but certainly the yummiest must-do activity of all – food! ;) Split, especially its Old Town, is literally dotted with colorful food stalls, konoba (a type of traditional Dalmatian tavern) and quaint little restaurants. Don't miss local delicacies, such as fish prepared na gradele and pašticada. Street food culture in Split is also pretty strong and you can never go hungry since there's always some inviting bite-sized treat waiting for you around the corner.
Itinerary
Breakfast at the hotel
Meeting with your tour leader & a driver for a private transfer from Trogir to Split.
Your local English speaking guide will introduce you to the heritage and history of charming Split during your private walking tour.
The second-largest city in Croatia, Split (Spalato in Italian) is a great place to see Dalmatian life as it's really lived. Always buzzing, this exuberant city has just the right balance of tradition and modernity.
Step inside Diocletian's Palace (a UNESCO World Heritage site and one of the world's most impressive Roman monuments) and you'll see dozens of bars, restaurants, and shops thriving amid the atmospheric old walls where Split life has been going on for thousands of years.
This tour will highlight the local customs and traditions related to food making. This tour of Split will show you places of historical importance, take you to the places off the beaten path and give you the opportunity to taste local food.
OPTIONAL:  Marjan hill, often referred to as the "green lungs of the city", is a big forest park located close to the city center and fully equipped with walking, hiking, and jogging trails. It's a great choice for everyone who prefers less-crowded, wild beaches and thick pine tree shade. Moreover, if you're looking for a picture-taking paradise, Marjan is your place! It offers stunning views of both Split and the surrounding islands.
OPTIONAL:  Marvel at Meštrović's magic
Ivan Meštrović was arguably Croatia's finest ever sculptor. Head to the Meštrović Gallery, which is housed in the expansive villa and studio he built for himself. You'll find here a wide range of his works, including early drawings and designs, through to the distinctive sculptures this twentieth-century talent was renowned for.
Private transfer back to Trogir and your hotel, time at leisure and overnight in Trogir
6
Day 6 – TROGIR – HVAR
The lavender island that Conde Nast's signature travel magazine called "one of the "best 10 islands in the world". A vacation on the lavender island of Hvar means extraordinary experiences every day – from visiting an ancient olive grove and learning about what Homer called "liquid gold", taking a Jeep safari to discover hidden inland Hvar to exploring a castle, visiting the oldest theatre in Europe or tasting spectacular wine and local delicacies at an award-winning vineyard.
St. Stephen's Square - The center of town is this rectangular square, which was formed by filling in an inlet that once stretched out from the bay. At 4500 sq. meters, it's one of the largest old squares in Dalmatia. The town first developed in the 13th century to the north of the square and later spread south in the 15th century. Notice the well at the square's northern end, which was built in 1520 and has a wrought-iron grill dating from 1780. Cathedral of St Stephen - The cathedral forms a stunning backdrop to the square. The bell tower rises four levels, each more elaborate than the last. The cathedral was built in the 16th and 17th centuries at the height of the Dalmatian Renaissance on the site of a cathedral destroyed by the Turks. Parts of the older cathedral are visible in the nave and in the carved 15thcentury choir stalls. Renaissance Theater - Built in 1612, this theatre is reportedly the first theatre in Europe open to plebeians and aristocrats alike. It remained a regional cultural center throughout the centuries. Plays were still staged here right up until 2008. Although much of the theatre is still under renovation, you can wander around the atmospheric interior and take in the faded frescoes and baroque loggias. Franciscan Monastery & Museum - This 15th-century monastery overlooks a shady cove. The elegant bell tower was built in the 16th century by a well-known family of stonemasons from Korčula. The Renaissance cloister leads to a refectory containing lace, coins, nautical charts and valuable documents, such as an edition of Ptolemy's Atlas, printed in 1524. Your eye will immediately be struck by The Last Supper, an 8m by 2.5m work by the Venetian Matteo Ingoli dating from the end of the 16th century. The cypress in the cloister garden is said to be more than 300 years old. The adjoining church, named Our Lady of Charity, contains more fine paintings such as the three polyptychs created by Francesco da Santacroce in 1583, which represent the summit of this painter's work.
Fortica - Through the network of tiny streets northwest of St Stephen's Square, climb up through a park to the citadel built on the site of a medieval castle to defend the town from the Turks. The Venetians strengthened it in 1557 and then the Austrians renovated it in the 19th century by adding barracks. Inside is a tiny collection of ancient amphorae recovered from the seabed. The view over the harbor is magnificent, and there's a lovely cafe at the top. Arsenal - On the southern side of St Stephen's Square, the Arsenal was built in 1611 to replace a building destroyed by the Ottomans. Mentioned in Venetian documents as 'the most beautiful and the most useful building in the whole of Dalmatia', the Arsenal once served as a repair and refitting station for war galleons.
Itinerary
Breakfast at the hotel and check out
Join your tour leader & driver for a private transfer from your hotel to Split Port
Fast ferry from Split to Hvar
Upon arrival to Hvar assistance with your luggage will be provided by the hotel staff. (Early check-in not guaranteed)
Meeting with your guide in a hotel lobby and take a walk to the Old Town Hvar for a private walking (entrance fees not included)
Time at leisure to explore the town further or for dinner (on your own) and overnight in Hvar
7
Day 7 – HVAR – DUBROVNIK
Dubrovnik is a medieval city on the Croatian side of the Adriatic coastline and treasure trove of cultural, historical monuments that were created throughout its thousand-year existence. In the past, it was a City-Republic, and alongside Venice one of the most famous cultural-economic centers on the Mediterranean. In more recent times, it has become the center of modern cultural and tourist events: a city of summer festivals – an international parade of top musical and theatrical achievements, a city of museums and galleries. These values have turned Dubrovnik into a place that offers a rich selection of various experiences and excitement, but also a complete holiday in a quiet and calming, mild Mediterranean ambiance and wonderful seaside landscapes.
Stradun - the main street of Dubrovnik where everyone's walked and also the busiest street where you stroll over marble tiles. Stradun is a great place for everyone where all the shopping can be done, cafes and restaurants are in the streets and many wonderful shops. Onofrio's Fountain - this drinking fountain is located just at the beginning of Stradun, the main street of the old town. The structure was named after its builder, the Italian Onofrio de la Cava dates from 1440 and includes 16 sides. The concept is part of the water supply system of the city and brings water from the well in Rijeka Dubrovacka, at more than 20 km away, to the heart of the city. Before that this interest was, therefore, more than a masterpiece of architectural sophistication. Originally the fountain was decorated with a sculpture, which was destroyed in the earthquake of 1667, the Remaining 16 stone masks from which the water flows into a lake.
The Clock Tower was built in the 15th Century right at the other end of the Placa (main thoroughfare) and represented alongside nearby buildings a free city-state. The tower is approximately 31 meters in height and built by Grubacevic, Utisenovic and Radoncic, local masters. Following an earthquake, the structure of the Clock Tower lost its structure and leaned. In order for it not to fall the Clock Tower was rebuilt in 1929. Orlando's column was built in 1418, then it was the focal point of the city and Government ordinances and punishment carried out. A flag flies above the statue with the 'Libertas' motto. The medieval cult of Orlando (Roland) started here in the 12th century based upon the epic poem 'Song of Roland'.
Itinerary
Breakfast at the hotel and check out
Assistance with your luggage from the hotel to Hvar Port provided by the hotel staff
Fast ferry from Hvar island to Dubrovnik
Upon arrival to Dubrovnik, meeting you're your driver for a private transfer to your hotel (early check-in not guaranteed)
Head for the Old Town accompanied by your tour leader and meet with your local guide for a private walking tour of Old Town Dubrovnik.
During the tour you will visit all major sites in the Old City: Main street – Stradun, Onofrio's Fountain, Orlando's Column, Bell Tower, Sponza Palace, Rector's Palace, Old Farmers' Market, Old Port, Dubrovnik Cathedral.
OPTIONAL:  Take the Dubrovnik Cable Car and reach a unique viewpoint above the city.
Glide through the air on a scenic adventure. The Cable Car ride offers breathtaking views of the Old Town of Dubrovnik, stunning coastal sights and magnificent sunsets. Once you reach the top, take your time and relax and enjoy the unique views of Dubrovnik and the Adriatic. (Weather permitting)
Farewell dinner in a local, traditional restaurant in Dubrovnik
Return transfer to the hotel, time at leisure and an overnight in Dubrovnik
8
Day 8 – DUBROVNIK
Itinerary
Breakfast at the hotel and check out
Transfer from your hotel arranged on your own
Adventures Croatia EXCLUSIVE Familiarity Trip, October 24 – October 31, 2020, package includes:
ALL PRIVATE and ENGLISH SPEAKING GUIDES AND DRIVERS
VAT TAX INCLUDED
24hr concierge and in Croatia assistance
Private transfer from your hotel in Zagreb to Old Town Zagreb in a modern, air-conditioned vehicle
English speaking guide/tour leader for a private walking city tour of Zagreb (entrance fees not included)
English speaking tour leader throughout
Wine Tasting Room wine bar in Zagreb (Included: 4 Wines from the Zagreb, Olive oil Bread, Cheese)
1 night in Hotel 4* in Zagreb, double room, BB basis
Private transfer from Zagreb to Plitvice Lakes National Park in a modern, air-conditioned vehicle (waiting time included)
Entrance fees for Plitvice Lakes National Park and a guided visit to the National Park
Three-course dinner at Plitvice restaurant (drinks not included)
1 night in Hotel 4* in Plitvice, double room, BB basis
Private transfer from Plitvice Lakes National Park to Zadar in a modern, air-conditioned vehicle
English speaking guide for a walking city tour of Old Town Zadar (entrance fees not included)
1 night in Hotel 4* in Zadar, double room, HB basis
Private transfer from Zadar to Trogir with an en-route stop in Šibenik in a modern, air-conditioned vehicle
English speaking guide for a private walking tour of Šibenik (entrance fees not included)
English speaking guide for a private walking tour of Trogir (entrance fees not included)
Three-course lunch in a local restaurant in Šibenik area (one drink per person included)
2 nights in Hotel 4* in Trogir, double room, BB basis
Private round trip transfer from Trogir to Split in a modern, air-conditioned vehicle
Exclusive Adventures Croatia Iron Gate Taste of Split Tour. Included: Walking tour Split, English speaking tour guide, insurance, pick up & drop off, a meal in each food stop (1st stop –prosciutto & cheese, 2nd stop – olive oil tasting, 3rd stop –entrée dish, ice cream stop)
Private transfer and luggage assistance from your hotel to Split Port in a modern, air-conditioned vehicle
Fast ferry tickets for transfer from Split to Hvar
English speaking guide for a private walking tour of Hvar town (entrance fees not included)
1 night in Hotel 4* in Hvar, double room, BB basis
Fast ferry from Hvar to Dubrovnik
Private transfer from Dubrovnik Port to your hotel in Dubrovnik in a modern, air-conditioned vehicle
Private round trip transfer from your hotel in Dubrovnik to the old Town Dubrovnik in a modern, air-conditioned vehicle (parking fees included)
English speaking guide for a private walking tour of Old Town Dubrovnik (entrance fees not included)
Farewell dinner in a local, traditional restaurant in Dubrovnik (one drink per person included)
1 night in Hotel 4* in Dubrovnik, double room, BB basis
Program does not include:  
Meals and drinks not mentioned above
Airfare, Travel Insurance
Additional excursions and / or services not mentioned in the program
Personal expenses (internet, telephone, mini bar, etc.)
Tips and porterage services
Terms & Conditions
Upon booking:
A 50% deposit is due upon all bookings and the final payment of 50% is due no less than 45 days prior to departure. After the final payment is received, your trip is non-refundable/non-cancelable and does not allow for itinerary changes.
We highly recommend travel insurance
, which must be purchased within a few days of booking your trip ("Cancel For Any Reason" policies provide the greatest level of protection. Please refer to the exact coverage details of the insurance provider you choose for specifics of their 'covered' expenses. Even with CFAR insurance, your travel purchase might not be covered in the event of a cancelation. Please understand the terms and conditions of your insurance policy.). Adventures Croatia's Terms and Conditions Agreement must be signed by each and every traveler in your group and an online Client Information Form and Digital Flight Confirmation (email confirmation from the airline or other) must also be submitted for each and every traveler in a timely manner. We accept payment via credit card, wire transfer or direct deposit only. Tour quotes do not include airfare to/from the trip start point unless specifically noted on the itinerary. Adventures Croatia is not responsible for any loss, accident, injury, delay, defect, omission or irregularity which may occur, such as changes, additional expenses and cancellations due to weather conditions, ferryboat or other transportation schedule changes and other any changes beyond our control. In all cases wherein Adventures Croatia is rendering services (i.e. providing vehicles or transportation, meals, guides, tickets, etc.) it is acting solely as an agent or intermediary for the owners or contractors providing such. Neither the Management of Adventures Croatia, nor that of any of its branch offices, shall be or become liable or responsible in any way for any loss, injury, damage, accident, delay or irregularity which may be occasioned either by reason of defect, through the acts or defaults of any company or person engaged in covering out the arrangements of the tour, or as a direct or indirect result of acts of God, dangers incident of the sea, fire, breakdown in machinery or equipment, acts of governments or other authorities de jure or de facto, wars, whether declared or not, hostilities, civil disturbances, strike, riots, thefts, epidemics, pilferage, quarantines, pandemics, shutdowns of public buildings and government or private offices or operations, public or private transit or the like, medical or customs regulations or from any causes beyond Adventures Croatia's direct control or from any loss or damage resulting from travelers holding improper passports, visas or any other documents. Adventures Croatia does not accept responsibility for any loss, or additional expenses incurred due to delay or changes in schedule or other causes. The right is reserved by all parties to decline to accept or retain any tour passenger should such person`s health or general deportment impede the operation of the tour to the detriment of other passengers. Furthermore, vouchers or tickets issued are subject to all laws, conditions, and regulations imposed by local authorities and governmental administration in the countries visited. Adventures Croatia is a wholesale travel consultant and supplier; the services provided are sold as itinerary "packages" and we do not breakdown or itemize the cost of the individual components that are an integral part of our consolidated itinerary packages. Adventures Croatia and/or its agents act solely as agents for the services described upon express conditions that they shall not be liable for injury, damage, loss, accident, delays, or irregularity, which may be occasioned due to being engaged in carrying out the services described in the individual itinerary packages.
Disabled persons:
Adventures Croatia must be advised during the booking process should there be any person in a traveling party who cannot travel independently or who needs any form of assistance, as such person must be accompanied by a companion capable of assisting this person. Areas visited will often not offer access and pathways comparable to those accommodating the disabled in the US.
Change Request Deadline:
We understand that there may be a need to change a component or item of your final booking program and we will try our best to accommodate such requests (but cannot guarantee that such request can be accommodated and if accommodated that such will not increase the cost of your booking package). We request that you give us as much advance notice as possible of any additional requests or nuances or changes to your program. A change is any addition or subtraction of an element within your confirmed travel dates and does not apply to any change in your travel dates. Your Change Request Deadline without a fee being incurred is 59 days prior to arrival. If you need to adjust your itinerary 58 days or less before your arrival (such adjustments do not include changing, postponing or rescheduling the dates of your travel), there will be a $350 change fee per item per person to be changed. This fee will be requested each time there are any new changes or new requests, so please submit all of your requests at the same time.
Cancellations of confirmed bookings:
90 days or more prior to departure will receive a refund of deposit paid minus $350 (per person) administrative fee and any non‐refundable paid fees (e.g. non‐refundable airfare, cruise or hotel deposits).
89 ‐ 46 days will be subject to loss of 50% of program price.
45 days or less will be subject to 100% of program price.
By confirming and paying for services with ourselves, guests are hereby agreeing to our Terms & Conditions.
(Please note: Agents who postponed their April travel and have confirmed their attendance in the October dates, these terms do not apply, and you have an Annex on your terms and conditions that explains your payments have been applied to this new trip and remain non-refundable)
Insurance:
Adventures Croatia urges our travelers to secure travel insurance. ("For Any Reason" policies provide the greatest level of protection. Please refer to the exact coverage details of the insurance provider you choose for specifics of their 'covered' expenses. Even with CFAR insurance, your travel purchase might not be covered in the event of a cancelation. Please understand the terms and conditions on your insurance policy) We recommend purchasing insurance within 14 days of your deposit payment, please note timing will impact your insurance policy and coverage. We are more than happy to create an insurance quote for you, please use this quick quote form:
Request a Quote for Insurance
Other items of importance
Valid US Passport is required for entry into Croatia and surrounding countries. Please have your passports with you on excursions crossing into surrounding countries/border crossings.
Please note: This is a guaranteed departure trip for Qualified Agents only, with a minimum of 16 guests (double occupancy, or single traveler rooms available with supplement). Any holds we may place on your behalf are temporary until a deposit is received and your booking is confirmed, hotels and services listed are subject to change. Space is limited! We recommend booking early and quickly.