Visiting: DUBROVNIK – SPLIT – TROGIR – KRKA NATIONAL PARK – ŠIBENIK – SPLIT
8 Day Private Journey
Available from May through September
Romance & New Experiences – Dubrovnik to Split – 8 Days
A perfect destination for passionate honeymooners or couples seeking a wonderful lovers escape, the Dalmatian coast of Croatia is a sensual bounty of centuries old world charm. Adventures Croatia provides the best travel packages for all our travelers with everything needed to stimulate the senses. Experience your vacation with gorgeous world class hotels or charming boutique cottages where your stay is enhanced with tranquil spas, private champagne dinners serving regional foods, and popular bars and nightclubs pulsating with excitement. Your private travel guide will take you on an authentic tour of exquisite ancient cities with monuments, museums, and galleries. Amid the cultural beauty are both charming little shops and modern high-end emporiums to satisfy the most discerning shopper. Enjoy romantic day cruises with a private skipper to breathtaking islands where you can explore the fertile underwater world snorkeling in crystal clear inlets or hike lavender scented trails in the stunning interior landscapes. The expertise of Adventures Croatia in this region and their experienced staff ensure you the utmost in comfort and privacy within your own customized getaway. Indulge in this dreamlike paradise that will captivate your heart forever.

Day 1
Arrival to Dubrovnik
Dubrovnik is a medieval city on the Croatian side of the Adriatic coastline and treasure trove of cultural and historical monuments that were created throughout its thousand-year existence. In the past, it was a city-republic, and alongside Venice, one of the most famous cultural-economic centers on the Mediterranean. In more recent times, it has become the center of modern cultural and tourist events, a city of summer festivals, an international parade of top musical and theatrical achievements, and a city of museums and galleries. These have turned Dubrovnik into a place that offers a rich selection of various experiences and excitement, but also a complete holiday that can have peace and quiet with its mild Mediterranean ambiance and wonderful seaside landscapes.
Itinerary
Arrival to Dubrovnik
At the airport, you will be met by your chauffeur for a private transfer to your accommodation
Time at leisure and an overnight
Day 2
Dubrovnik
Itinerary
Breakfast at the hotel
After breakfast, meet your driver for a private transfer to your Pile Gate meeting point where your travel guide will take you for a walking city tour of the Old Town Dubrovnik
Time at leisure
Return to your hotel for a romantic four-course candlelight dinner at the hotel restaurant
Overnight at the hotel
Day 3
Dubrovnik
Itinerary
Breakfast at the hotel and morning at leisure
Meeting with your driver for a private transfer to Pile Gate meeting spot where your instructors will take you for a half day sea kayaking experience (starts beneath fort Lovrjenac in the small port called Pile).
Explore caves and beauties of Lokrum island, where you will have a break for snorkeling. Upon return, discover why easy paddling in kayaks beneath the old city walls.
Distance between start position and finish point: 7km
Duration of the tour: 3h
Time at leisure and a return to the hotel (TBC)
Overnight in Dubrovnik

Day 4
Dubrovnik – Split
Pelješac peninsula is known as one of the best wine-producing regions in Croatia. This tour allows you to sample the best local wines and enjoy the magnificent peninsula scenery and picturesque vineyards. You can start this vacation tour with a visit to Ston, a town famous for its 5 km long defensive wall, the second largest in the world, right after the Chinese wall, and finish in Mali Ston, the center of oyster production in Croatia.
Itinerary
Breakfast at the hotel and check out
Meeting with your driver for a private transfer from Dubrovnik to Split with en route stop in Pelješac peninsula that has been known for its excellent wines since ancient times as well as oyster harvesting
Stop in Mali Ston or Hodilje for oyster harvesting experience and a traditional lunch prepared with local mussels and shells
Onward drive to Split, accommodation
Time at leisure and an overnight

Day 5
Split
Olives, indigenous aromatic plants, brilliancy of white stone against the verdant vegetation, and the towering mountain massif of Biokovo, whose spurs reach all the way to the sea – yes, this is indeed an exceptional part of the country, and its beauty is made all the more enchanting by numerous historic events, monuments, and cultural manifestations. In the year 305, the Roman Emperor Diocletian, who ruled the entire world at that time, decided to build his leisure time abode – in which he intended to spend the rest of his life. He had no doubt as to exactly where to build it, the very heart of Dalmatia, in the bay of Aspalathos. It's well protected from the sea by the islands of the Split archipelago and defended on its landward side by high mountains, this allowed Diocletian to create a special point on the map of the Adriatic: the future city of Split.
Itinerary
Breakfast at the hotel and a meeting with your travel guide for a walking tour of Old Town Split
Time at leisure
Wine sampling and Croatian style tapas at wine bar (3 tier platters to share with a selection of Croatian white and red)

Day 6
Split – Trogir – Split
Itinerary
Breakfast at the hotel
Meeting with your skipper for a private full day speedboat excursion to the south coast of island Vis with a visit to the "Green Cave" unique Stiniva bay, Porat beach and Budihovac islet and Hvar town (we reserve the right to cancel any water transfers if the skipper deems it to be unsafe to travel
Cruise through the most beautiful part of island Vis, enjoy in a unique atmosphere and natural attractions.
Beside natural beauty and mystique, Stiniva bay is special for its characteristic tiny sea entrance between high monumental rocks.
The Green Cave is the biggest sea cave of the Vis archipelago. It's characteristic because of the sun light beam coming through a hole on the Cave's top, spreading sparkling green light in the sea of the Cave.
Budihovac islet is perfect place to lie on the sun and swim in peace.
This excursion is best to combine with a lunch on the tavern terrace in a special ambient by the sea on an islet Budihovac with gastronomic specialties of fresh fish and homemade wine (on your own).
Now is the time for a final visit to Hvar town. Your skipper will dock as close to the town's center where you can explore on your own
Return to Split, time at leisure and an overnight in Split
Day 7
Split – Krka National Park – Šibenik – Split
The largest part of this amazing river's course is the national park, which, in addition to its natural phenomena, abounds with cultural and historical monuments. The most outstanding of these is the Franciscan monastery on the tiny island of Visovac, set in the middle of the lake widening in the river like a precious stone. Within the monastery, there is a picture gallery and a church, origins of which are traced back to the 14th century. In the middle of the canyon, upstream of the river, is an interesting Krka Orthodox monastery; while on the high ground above the river several old ruins sit. The old mills, which have been transformed into small ethnographic museums where one can see how wheat was ground in the olden days, are a popular attraction for visitors. Heritage interpreters are dressed in traditional folk costumes, which is particularly interesting and entertaining for children, who are frequent visitors of the park. However, the main attraction of Krka National Park lies in its seven waterfalls. The widest of these is Roški Slap, but Skradinski Buk is the biggest and most well known.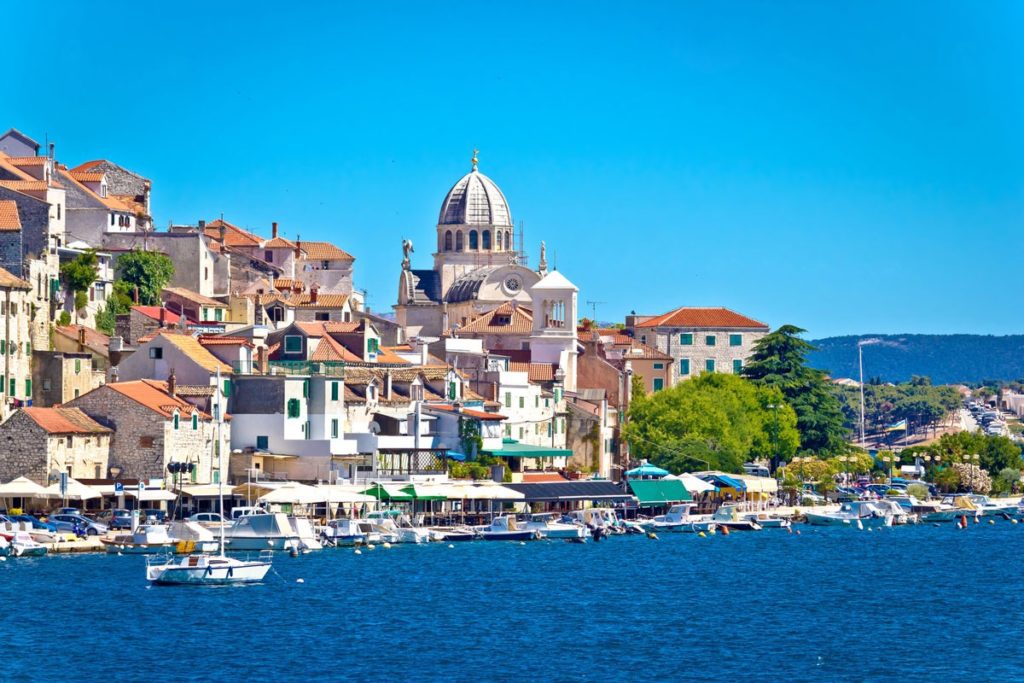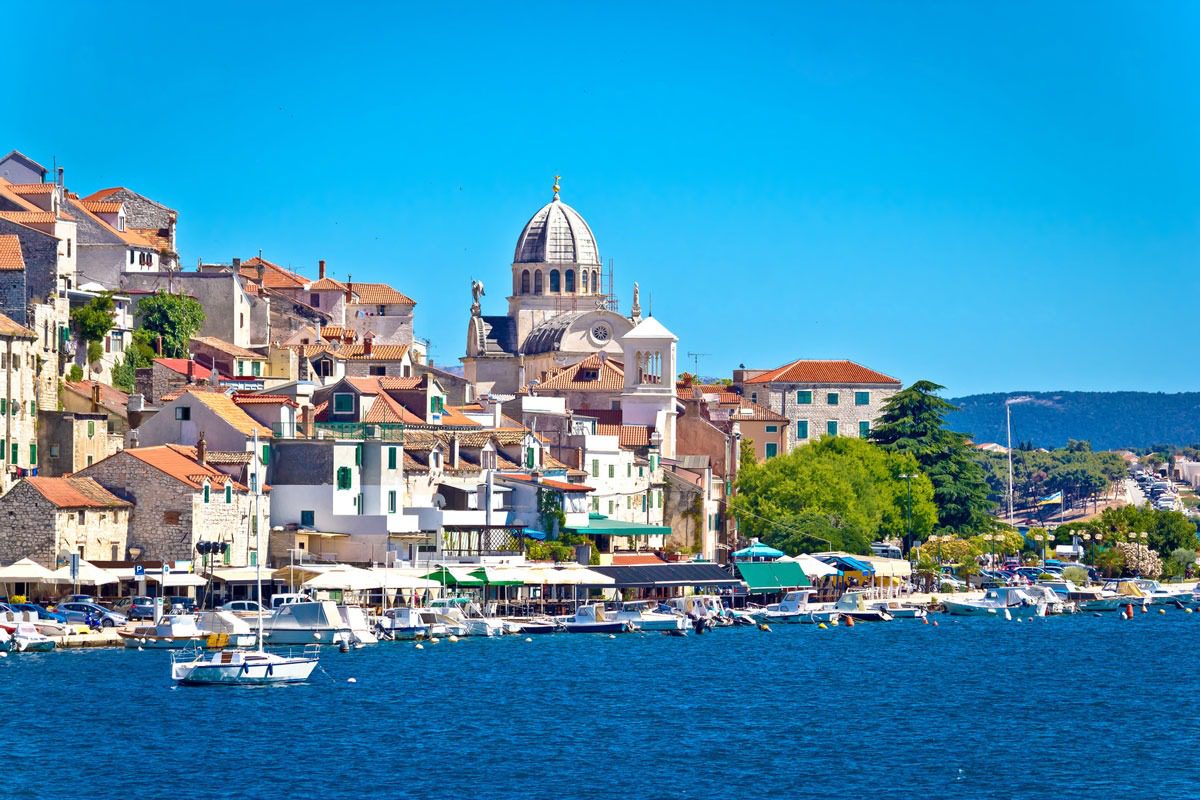 Croatia is perfectly suited for walkers, and there are numerous interesting walks across the country. The most picturesque ones tend to be those in Plitvice Lakes, Krka, and Paklenica National Parks and on the islands of Brijuni and Mljet. Those interested in something a bit more strenuous – hiking – may like to head to Mount Biokovo (above Makarska) and the Velebit mountains (northern Dalmatia).
Šibenik is unique because of its fortresses and towers, Sv. Mihovil [St. Mihovil], Sv. Nikola [St. Nicholas], Sv. Ivan [St. John] and Šubićevac. Šibenik is most famous for the cathedral of Sv. Jakov [St. Jacob]. Constructed in the 15th century by the masterful hands of Juraj Dalmatinac and Nikola Firentinac, this cathedral was entered onto the UNESCO World Heritage Site list and, at the same time, voted the most beautiful sacral building in Croatia because of its original architecture of large stone slabs.
Itinerary
Breakfast at the hotel
Meet your driver for a private excursion from Split to Krka National Park & Šibenik
Explore the waterfalls of Krka National Park by wooden walkway. Enjoy the fresh air, wild nature and visit National Park Krka's ethno museum, small stone houses and an old watermill or the first hydroelectric power station in Europe.
The walking trails of Krka National Park and the stunning viewpoints are the best way to see the landscape and wealth of flora and fauna of the aquatic and terrestrial habitats and to get a true experience of nature that encompasses all the senses.
The trails are equipped with educational panels providing detailed information about the plant and animal life in the park, and the cultural and historical points of interest.
There are three circular trails: Skradinski buk (1900 m), Roški Slap (1360 m) and Krka Monastery (2100 m).
A walking/cycling trail also leads to Skradinski buk from the Skradin bridge (3400 m), while from Lozovac, it is possible to take a forest trail (875 m) down to the park's longest waterfall.
The shortest trail is 300 m long and leads to Bilušića buk, while the longest trail is Stinice-Roški slap-Oziđana pećina and covers 8.5 kilometers.
The trail with the viewpoint (360 m) leads to Manojlovac, the tallest waterfall on the Krka River. The beauty of rock and the fortress arising from it, Ključica, can be admired from the trails (1450 m) that leads from Brnjica to the Čikola River or along the opposite side of the canyon, the Ključica trail (1600) leads to a viewpoint with a spectacular view.
There are three additional viewpoints in this stunning landscape shaped by the Krka and Čikola Rivers: at Bilušića buk, Brljan falls, and in Krnići Gornji, which overlooks the confluence of the Krka and Čikola Rivers.
End your visit to the national park with a short drive to Šibenik where you will enjoy a private walking tour of this ancient time accompanied by your guide.
After the walk enjoy a unique wine paired meal experience at a Michelin star awarded restaurant Pelegrini in Šibenik (the tasting menu paired with Croatian wines)
Drive back to Split, time at leisure and an overnight in Split
Day 8
Split – Departure day!
Breakfast at the hotel and check out
Meeting with your driver for a private transfer from your hotel to Split Airport
Departure flight (not included)
Finally, your Croatia vacation ends here! Private transfer from your hotel to the airport.
This Croatia vacation package includes:
ALL PRIVATE and ENGLISH SPEAKING GUIDES AND DRIVERS
VAT TAX INCLUDED
24hr concierge and in Croatia assistance
Private transfer from Dubrovnik Airport to Dubrovnik in a modern, air-conditioned car
3 nights in Dubrovnik Hotel 5* in Dubrovnik, double room, sea view, BB basis
Private round-trip transfer from your hotel to Pile Gate meeting spot in a modern, air-conditioned car
English speaking guide for a private walking tour of Old Town Dubrovnik (entrance fees not included)
Romantic four-course candlelight dinner at the hotel restaurant (drinks to be paid on spot)
Private round-trip transfer from your hotel to Pile Gate meeting point in a modern, air-conditioned car
Group sea kayaking tour (kayaking & snorkeling gear, waterproof barrels for personal things, instructors/guides, insurance)
Private transfer from Dubrovnik to Split with en route stop in Pelješac, in a modern, air-conditioned car (entrance fees to Ston Walls not included)
Stop in Mali Ston or Hodilje for oyster harvesting experience and a traditional lunch prepared with local mussels and shells
4 nights in Split Hotel 4*, double room, BB basis
English speaking guide for a private walking tour of Old Town Split (entrance fees not included)
Wine sampling and Croatian style tapas at local wine bar (3 tier platters to share with a selection of Croatian white and red)
Private speed boat excursion from Split to the south coast of island Vis with a visit to the Blue cave, unique Stiniva bay, Porat beach, Green Cave, Budihovac islet and Hvar town on Hvar island
Included: speedboat transfer, skipper, fuel, VAT, insurance, safety gear
Private excursion from Split to Krka National Park and Šibenik in a modern air-conditioned vehicle accompanied by an English speaking driver
Entrance fees to Krka National Park included
English speaking guide for a private walking tour of Šibenik (entrance fees not included)
Wine paired tasting menu at Pelegrini Michelin award restaurant
Private transfer from Split to Split Airport upon departure in a modern, air-conditioned car
Vacation Package does not include:
Meals and drinks not included in the cost
Airfare, Travel Insurance, Gratuities, Personal Expenses
Romance & New Experiences – Dubrovnik to Split – 10 Days
Available from May through September
Private Journey for 2 Persons
The travel packages/prices are based on number of passengers traveling and dates of travel to Croatia
Hotels for vacations are not guaranteed until confirmed