Suggested routing: DUBROVNIK – TRSTENIK – MLJET/ KORČULA – HVAR – VIS – BRAČ ISLAND – OMIŠ – SPLIT
11 Day Private Charter Deluxe Cruise & Excursions.
Customize this trip!
---
Day 1 – DUBROVNIK
Dubrovnik is a medieval city on the Croatian side of the Adriatic coastline and treasure trove of cultural, historical monuments that were created throughout its thousand-year existence. In the past, it was a City-Republic, and alongside Venice one of the most famous cultural-economic centers on the Mediterranean. In more recent times, it has become the center of modern cultural and tourist events: a city of summer festivals – an international parade of top musical and theatrical achievements, a city of museums and galleries. These values have turned Dubrovnik into a place that offers a rich selection of various experiences and excitement, but also a complete holiday in a quiet and calming, mild Mediterranean ambiance and wonderful seaside landscapes.
Day 2 – DUBROVNIK
A day at leisure.
The 5* Hotel Spa invites you to celebrate the beauty of life in its unique comfort and atmosphere. Located on two floors in the very heart of the 5* Hotel, the hotel Spa allows you to delight your senses and soothe your soul with innovative body treatments alongside classical enjoyment in saunas or massages. The spa welcomes you to feel that traditional touch of unprecedented hospitality within the state-of-the-art setting of our Spa facility.
Day 3 – DUBROVNIK
Breakfast at the hotel
Meeting with your guide for a private walking tour of Old Town Dubrovnik (entrance fees included )
Time at leisure to explore the city on your own
Wine sampling and traditional Croatian snacks at wine bar
Time at leisure and an overnight (return to the hotel on your own)
Day 4 – Embarkation – Gruz Harbor: DUBROVNIK – TRSTENIK
Upon embarkation, enjoy a welcome happy hour and enjoy lunch on board as we motor to Trstenik, which is a tiny peninsula that must be one of the most beautiful winery settings in the world! We'll take a 10-minute walk for a tour of Grgić winery where will enjoy a private wine tasting experience with the famous Croatian Grgić wines, Posip and Plavac and also the Grgich Hills Zinfandel wine from California. You'll learn of the scientific genetic study, inspired by Mike Grgić and conducted by the viticulture and Wine Institute of U.C. Davis that links these grapes and wines to each other. And you'll hear about the biodynamic growing methods employed by Grgić, now being adopted by many other growers. Along with the wines, Dalmatian prosciutto, cheese, and marinated fish will be served. The tour lasts about 1 – 2 hours and then we will continue on to Miloš winery.
We'll have a private tour of the winery and tasting of five Miloš wines: Stagnum Rose; Plavac vintage 2010 and premium Stagnum vintage 2006, Stagnum 2003 and Stagnum semi-sweet. Highly acclaimed and international award-winning Miloš olive oil will also be offered for tasting. Each member of the group will receive a complimentary bottle of Miloš olive oil as a souvenir.
After touring the wineries, depending on the weather and status of the vineyard, the group will have a tour of vineyards where you may have the opportunity to become part of the thousand-year-old tradition of wine by contributing some labor and putting your hands on the vines.
Day 5 – TRSTENIK – MLJET – KORČULA
Mljet National Park is a large area that borders two saltwater lakes – Veliko and Malo Jezero (Large and Small Lake). The lakes stretch about 4 kilometers. Right in the middle of the Large Lake, there is a small island / islet Melita (Sveta Marija) with a former Benedictine monastery, built in the 12th century and abandoned when Napoleon's troops arrived. The monastery's building now houses a café/restaurant next to the restored chapel and refurbishing is underway. The small island may be reached by boats that sail there from both sides of the Lake. Swimming and sunbathing in the Park is a pleasure – as the lake water is much warmer than on the seaside of the island (which is great if you want to swim in colder months). To enjoy the stunning scenery from above, there are nice hikes you can take up the hills (200 m) to see the views.
Korčula was first mentioned as early as the 10th Century by Byzantine historians under the name "Stone Town". It flourished under the Venetian government and later it spread beyond the original town walls. And yet, it is still most famous as the birthplace of Marco Polo, who was probably born here in 1254. Reminders of him can be seen all around the town, including the interesting Marco Polo Museum worth visiting when in this beautiful Dalmatian town. Today it`s a town where you vividly feel the Mediterranean spirit of people who live and work in this mixture of Gothic, Renaissance and Baroque architecture.
Upon arrival to Korcula enjoy a walking tour of the Old Town with streets built in the shape of a fish bone. We will make a short stop at a famous Cake Shop "Cukarin" in Korčula where the owner will tell you the story about traditional sweets.The tour ends at the summer stage where you will enjoy a private performance exclusively for Adventures Croatia followed by typical Dalmatian dinner in a local konoba/ tavern.
The tour ends at the summer stage where you will enjoy a private performance exclusively for Adventures Croatia followed by typical Dalmatian dinner in a local konoba/ tavern.
Overnight in Korčula port.
Day 6 – KORČULA – HVAR
The lavender island that Conde Nast's signature travel magazine called one of the best 10 islands in the world. A vacation on the island of Hvar means extraordinary experiences every day – from visiting an ancient olive grove and learning about what Homer called "liquid gold", to taking a Jeep safari to discover hidden inland Hvar, to exploring a castle, visiting the oldest theater in Europe or tasting spectacular wine and local delicacies at an award-winning vineyard. The gently rolling hills, spectacular beaches, lush vineyards, and vibrant nightlife of Hvar make it the perfect island getaway. Take a stroll down the medieval streets of this lovely island and you will encounter imposing fortifications that testify to the island's substantial history
Day 7 – HVAR – VIS

Our next destination is the island of Vis, which was, because of its unique geographical position, a strategic harbor for the navy and closed to the public until recently. Because of this isolation, Vis has a special charm of 'the Mediterranean as it once was' which makes it really interesting to see. Overnight in the town of Vis, situated on the northern side of the island, developed near the remains of the ancient Issa, first urban center in Croatia. If interested, visit the remains of the Roman thermal place, City museum or simply take a walk enjoying the views of the beautiful villae rusticae situated along the waterfront.
Our excursion today is on a unique speedboat "Tornado" that we will zoom over to the south coast of island Vis with a visit to the "Green Cave," unique Stiniva bay, Porat beach, and Budihovac islet.
We will then cruise through the most beautiful part of island Vis, enjoying unique atmospheres and natural attractions. Besides natural beauty and mystique, Stiniva bay is special for its characteristic tiny sea entrance between high monumental rocks. The Green Cave is the biggest sea cave of the Vis archipelago. It's characteristic created by the sunlight beam coming through a hole on the Cave's top, spreading sparkling green light in the sea of the Cave. Budihovac islet is a glorious place to lie in the sun and swim in peace. Overnight in the town of Vis, situated on the northern side of the island, developed near the remains of the ancient Issa, the first historic urban center in Croatia.
Day 8 – VIS – BOL (BRAČ)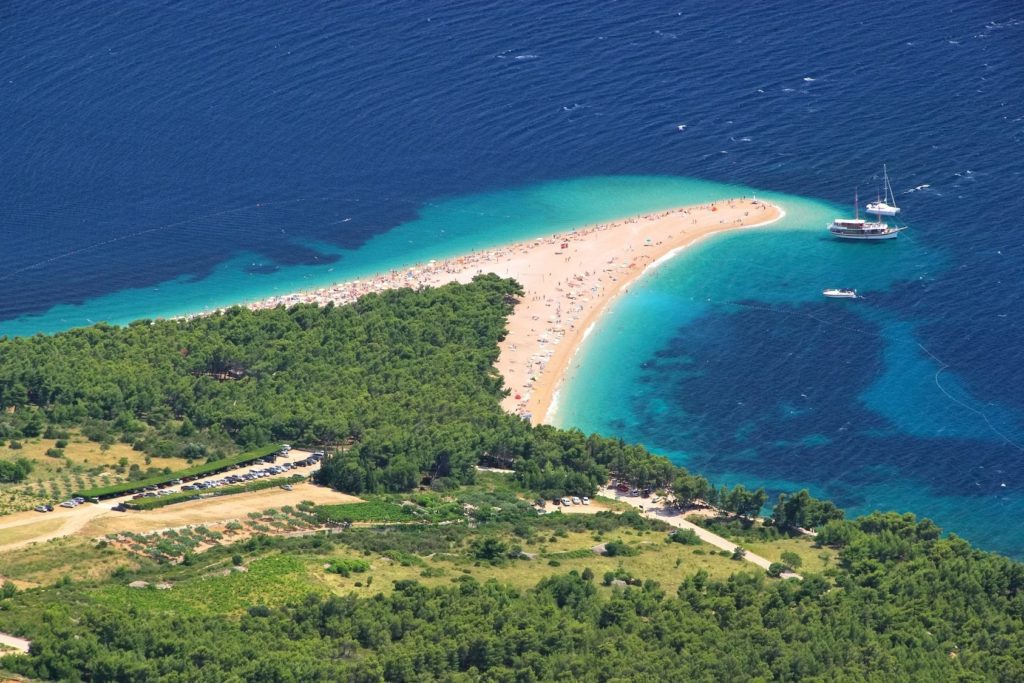 This morning we continue our cruise to the island of Brač, more precisely to the town of Bol, a typical Dalmatian fishermen's village converted into a tourist destination. Bol is certainly best known for its famous Zlatni rat beach (Golden horn), a natural phenomenon that with its specific form dominates the other beaches of Croatia. Hike or rent a scooter up to Vidova Gora for a spectacular view of Bol and surroundings. Overnight in Bol.
Optional: Visit the Dragon's Cave, so called after one of the reliefs found inside. The guide takes you up to the cave, pointing out other significant sites on the way, explains the relevance of the carvings found inside the cave's four rooms and gives an insight into the way the monks adapted to their harsh surroundings. On your way down you will pass the vineyards, have an arranged transfer to the local wine cellar and enjoy a wine tasting of the island's most popular brands such as pošip and plavac mali. (Included: English speaking guide, transfer, wine tasting)'
Day 9 – BOL (BRAČ ISLAND) – OMIŠ
Omis is a small town and harbor in Central Dalmatian located between Split and Makarska, situated at the mouth of the Cetina River and surrounded by massive gorges. In the past, it was notorious because of the pirates of Omis whose ships were a centuries-long symbol of retaliation, courage, and strength. The proud and turbulent Omis history can be found on every corner of the Omis Riviera. Omis churches and Omis fortresses are silent stone reminders of the power and the might of the once infamous pirates. Today, Omis is one of the most beautiful places along Croatia's Adriatic Coast.
Optional: Zip lining in Omis (Transfer, Zipline adventure, guide) Imagine zipping your way across the magnificent Cetina River 150 meters above the canyon suspended by a wire! We have 8 wires running a total of 2100 meters. The highest one is 150 meters above the river canyon. The views from up here are incredible—a bird's eye experience of some of the most magnificent nature in Croatia and the nearby seaside village of Omis is the perfect ending to an amazing day! A full 3 hours of pure fun and a healthy dose of adrenalin to satisfy even the most demanding thrill junkies. Zipline is an adrenaline activity where guests descend through the canyon down the steel rope, secured with a belt. Adventure also includes training and a short walk in nature. Zipline is located 3 km from Omiš, in the canyon of the Cetina River and consists of eight wires with a total length of 2100m. Depending on the size of the group you will experience an unforgettable three hours of fun and beautiful nature. Each group is followed by two guides. Before the beginning, the group goes to the training ground and each guest receives equipment. There are two short cables, length 25m, where guides show you how to brake and act on the cable. Follows a short walk to the first cable, during which you can enjoy in almost untouched nature and beautiful views of the canyon of the Cetina River. Before each cable, one of the guides attaches you and gives you instructions. On the other side, there is another guide who descended first and who will get you off the cable. In this way, you will pass all of the eight cables. Optional: Rafting on Cetina River (Transfer, professional licensed instructor, rafting equipment, safety gear) Rafting on the Cetina River is the most popular and most attended adventure trip in Dalmatia. The three to four-hour-long rafting experience takes you down a 12 kilometer part of the Cetina River. Starting from the village of Penšići, the rafting route passes through unforgettable scenery of impressive cliffs, playful waterfalls and numerous rapids, ending at the excursion site of Radmanove Mlinice (the family Radman Mills), where you can take a rest and enjoy the amazing natural ambience of fresh air and a unique scenery, so different from the nearby Adriatic coast.
Day 10 – OMIŠ – SPLIT
In the year 305, the Roman Emperor Diocletian, who ruled the entire Roman world at that time, decided to build his leisure palace – where he intended to spend the rest of his life. He knew exactly where to build it, in the very heart of Dalmatia, in the bay of Aspalathos (Split). There it would be well protected from the sea by the islands of the Split archipelago, and defended on its landward side by high mountains. Diocletian created a special point on the map of the Adriatic: the future city of Split. Today the current city of Split is interwoven with remnants of the Emperor's Palace, one of the only places like it in Europe.
We continue our cruise towards our last destination – the town of Split, a city under UNESCO protection. Split's historical richness and beauty belong not only to those who live near its walls but is available to all who wish to experience history beyond millennial.
Upon arrival join our guided tour of Split with an English speaking guide through the old city center and the 1700-year-old Diocletian's palace.
Farewell dinner in Restaurant open terrace will follow. You will enjoy locally sourced, refined regional cuisine paired with an impressive selection of Adriatic & European wines.
Followed by a farewell bar crawl and rakija sampling.
Return to the ship and overnight onboard in Split.
Day 11 – SPLIT

After breakfast, you will say goodbye to the crew and your new friends with the hope we meet again on another trip to Croatia!
Early morning disembarkation from the ship, private transfer to Split Airport upon departure
Package includes:
ALL PRIVATE and ENGLISH SPEAKING GUIDES AND DRIVERS
VAT TAX INCLUDED
24hr concierge and in Croatia assistance
Lunch on board during our cruise along the Dalmatian coast to TRSTENIK
7 nights Deluxe Cruise ship
Assistance with your luggage and private transfer from your hotel to Gruž Port for embarkation to Adventures Croatia Island Hopper
Wine sampling and Croatian traditional snacks at wine bar
English speaking guide for a walking city tour of Dubrovnik (entrance tickets to Rector's Palace, Franciscan Monastery and City Walls included)
3 nights in Dubrovnik Hotel 4 or 5* in Dubrovnik, deluxe double room, BB basis
Private transfer from Dubrovnik Airport to Dubrovnik hotel upon arrival
Klapa Laus performance during welcome party
Exclusive Adventures Croatia Peljsac tour
Private tour of Grgich winery
Snack at Grgich winery
Milos winery tour
In-vineyard experience
Welcome drink (herbed rakija with homemade fritule) before dinner on board the ship
Buffet breakfast on board each morning
Entrance tickets to the National Park Mljet
Private walking tour of Old Town Korcula with tasting of traditional cakes (Included: English speaking guide, cake tasting in Cukarin store)
Private performance on the summer stage with a welcome drink
Three-course dinner at Korcula restaurant on the private terrace (drinks not included)
Hvar walking city tour with visits to Benedictine Monastery Museum, Cathedral and Theater followed by a walk up to Španjola Fortress where you'll enjoy a private get together with music, wine sampling, and snacks
Wine sampling at Wine house Vujnovich from Sučuraj on Hvar Island – Ivan Dolac & Plame red wines and Parč white wine and local Prošek paired with local cheeses, prosciutto, and other local appetizers
Unique speedboat Tornado excursion to the south coast of island Vis with a visit to the "Green Cave" unique Stiniva bay, Porat beach and Budihovac islet.
Included: speed boat Tornado transfer, skipper, fuel, VAT, insurance, safety gear, entrance fees
Three-course dinner in Pojoda restaurant in Vis (drinks not included)
Three-course dinner in Vagabundo restaurant in Bol (drinks not included)
Private transfer from Omiš Port to Mosor Mountain with a panoramic view of Omiš and its surroundings.
Traditional performance by a local cultural group of the "Omiš dance" and soparnik served with welcome drinks.
Tour of Omiš followed by a boat ride to Radman Mill restaurant for lunch (three-course meal without drinks)
Captain's Dinner on board, with passenger talent night
Walking tour of Old Town Split
Four-course dinner menu with wine pairing at the open air terrace with an Adventures Croatia closing ceremony
Followed by a bar crawl and tempting selection of rakija (local grappa) offered in more than 25 smashing flavors"
Private transfer from Split harbor to Split Airport upon departure
Program does not include:
Meals and drinks not mentioned above
Airfare, Travel Insurance
Additional excursions and / or services not mentioned in the program
Personal expenses (internet, telephone, mini bar etc.)
Tips and porterage services
Dates and Details:
Prices are based on number of passengers traveling and dates of travel
Hotels are not guaranteed until confirmed
DISCLAIMER: Due specific mooring conditions and requirements in some Croatian ports, ships are moored side by side, making it necessary for the clients to cross from one ship to another with gaps in between ships in order to get to the shore. In such cases, clients need to take special care when crossing and do this at their own risk. Crew assistance will be given to those needing and requesting it.